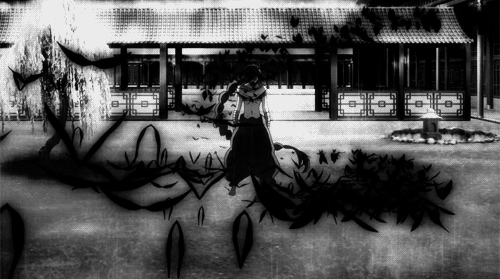 ---
---
As the last of the gleaming light would flee the skies, pure and utter darkness would begin blanketing the world in black, for the long night was beginning to creep in.. It would come in a slow creep, with nobody being able to escape what engulfed the great swathes of land and ocean. All who sided with the light lied frightened for what came of this dark of night. It was the unknown and lurking danger that lurked within the shadows that struck fear into the hearts of man. Whoever sought to lead mankind through the dark of the night could ignite fires of light, to lead and combat the darkness, in hopes of seeing a new light of day. Or one of vile intent could help spread corruption, turning those from the light of the Rukh What choices shall you make in darkness? It rests in your hands. Will new and old faces shine radiantly through the night, or shall the black shadows snuff out the bright lights? Lock arms with friends and others for your common goals or help spread the coming darkness.
---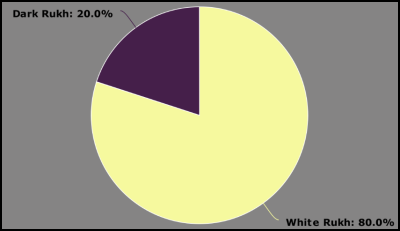 The Contractor has realized from all his efforts that bringing balance through single schemes let to the majority of those that follow Solomon's will triumph. Minorly though, through each failure, risen army and clashing of world forces the more darkness. Even those who failed him, now on their own darkened a large portion of people as he continued his conquering. There was more success in fueling the efforts of others, in forcing such a meteoric rise of dark rukh that the light would struggle with pushing it down. He watches and meddles, helping others rise to distract those that put down his goals. Those who do their own dark deeds will be rewarded while those find themselves on the frontlines fighting for Solomon's will find fates own gifts.
Act 0 will last for 6 months, ending at 12:00 AM EST on January 8th, 2021. For the 6 month time span once a month, every month the dark rukh percentage will go up an irreversible 5% on the chart. Once it has reached 50% Act 1 will begin. Players' actions will be monitored as well with players being able to post in this thread if they've fit one of the criteria listed below.
Rukh Shifting Actions:



1%~ Besting a player of Opposite Rukh in the arena. 500 Words towards a character goal per 500 words (Must be on topic)


2%~ Beat another Player. Convert a player to your Rukh alignment in a thread of at least 1000 words. Found a faction 2% monthly upkeep or if participating in a faction.


3%~ Fight a KC/DKC. Complete a C-tier job chain in wordcount with another player of the same Rukh Alignment. Acquire a Vessel


5%~ Kill a player. Complete a B-tier chain in wordcount with a player of matching Rukh type, must have an impact of saving people or helping corrupt further.


10%Save a city from disaster and put things on Solomons path or Destroy a City bringing despair to the land. Kill a Kc or Dkc. Convert 5 players to rukh alignment and you get this added on to the percent you also worked towards. Complete an A-tier chain in wordcount with a player of matching Rukh type (Make sure for each player)


15%Destroy (Take-over) or Create a Nation, Global Orb, Trade Empire, City-state etc (Generally A-tier or Omega only)


Half of the world has fallen to depravity, darkness now reaches down from the skies as those in charge wish to tame the power of a hidden god. With darkness contained the forces plot and prepare for the more severe conflict to come. More details to come. The act lasts for 2 months.

Act 2: Wars in a New World!
Teaser to be posted upon start of part 1. This part lasts 2 months.
TBA at the finale of Act 2
---
Act 0:
Phase 0 is mostly about plotting and setting up the world's environment. Players upon having converted a certain percent will get different rewards unlocked for them, progress undone by back and forth percent shifting does not take away from an individual's rewards as the rewards are effort based. Since the 5% dark rukh growth that happens naturally every month cannot be reversed any white rukh percent pushed over in that time will be converted to Huang in a 1%=10,000 Huang Value.


5% D-tier Custom Magic Weapon with two functions (Cannot get DMV) or free C-tier weapon/beast


10% Upgrade magic weapon to C-tier or Upgrade the beast/weapon to B-tier.


15% The plot for a DMV or another plot device or tool within the discussion of staff. Players who picked the adapting tool do not get this option and instead, it upgrades to B-tier magic weapon and you're given 200xp


30% The weapon or beast becomes A-tier. DMV or plot connecting to the last reward has a bigger impact in the event part 1, all players who make it this far will be integral in part 1.


50% A shard and 1000 XP. If a player converts this much in their total percentage earned they will be involved with the further plotting and planning for the event.

---


All players are capable of participation and may earn rewards just through their efforts.


There will be plenty of kill viable moments, a request must be put in order to properly invade or attack a player who doesn't wish to thread.


All threads posted for the event in hear and ones reviewed just by staff will be placed under the important threads section.

Dark Rukh
8: 11%
Adrastos: 10%
Julius: 10%
Gilles: 9%
White Rukh
---
Gilles Threads:
Julius Threads:
8s threads:
Adrastos' Threads:
Xerxes Joins team Dark Rukh
Remus receives a visit
Sotamimi a Rival chief Rises
Adam Enters the Fray


Last edited by Solomon's Proxy on 26/09/20, 03:35 pm; edited 1 time in total