Dear Dreamer,

I've been watching your deeds closely. Each act of defiance, every person, and path you've crossed. Amongst the select few you have been cordially invited to join us in a friendly ball. With lovely discussion and only the most interesting of guests, all you are required to bring is yourself! Tonight we shall free our minds, and for yourself opportunities aplenty. Be ready to be whisked away, the contents of the letter would read. The ending phrase changing between each of the recipients.

to make a world more perfect, more functioning (To Eight)

to cleanse the arrogant, the foolish (To Julius)

to find flame everlasting and eternal (To Gilles)

to a place in which peace properly exists (To Jumanah)

Yours Truly,

The Contractor

As the papyrus would crinkle in their hands a magic symbol would glow from the paper as they touched it. From its magic circle, a teal mist would puff, slowly sneaking its way into the mind. As sweet sounds and simple dreams would come no harm came from the spell, only simple dreams. It was quick, like a heavy slumber deep into the night. From the haze soon consciousness would return, but not in the realm of the living, not in the places in which they had resided before. He had brought the a chance an opportunity. The letter had brought them to come along, to dream a dream.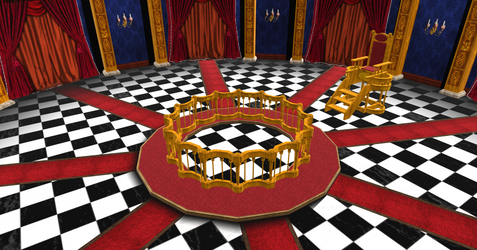 Checkered floors and red carpet would line the floors. Like veins, they traced towards the beating heart of the room. A circle of podiums sat at its' center. The light wood, seemingly softwood possible evergreen to be specific, made up not only the stands but the walls of the room as well. Red drapes, covering false windows and stares into nothingness decorated the strange place. Between the wooden beams, plastering the frame of the wooden walls was blue wallpaper. Each segment holding a candelabra, with their lights stretching to every corner.
It wouldn't take them long to notice each other, it certainly wouldn't take long to notice the throne which rested at the back of the wall. Unlike the empty podiums, there was a person resting there. Laid over the chair, his legs in the air the magician would stare at them all with an intense glare. His wicked smile and cat-like eyes were evident. Tales had traveled, but it had been quite a time since he'd shown himself off. His power was evident, but there was no Rukh to see here.
"Kyehehehehee, glad to see the invitations worked! I'm sure you all have plenty of questions, please walk up the podium, have yourself a drink!" With a wave of his stave assortments of ales, wines, juices, water, even different types of animal milk, and strange hot brown liquid fill mugs of all shapes and sizes would appear along the circle of podiums.
The air was certainly odd, he was intrigued to see how they would act. As confusion was likely soon to ensue he took the chance to speak up again. "Oh where are my manors, Hello I am the Contractor, and I am here to be your magi. Well, most of yours, I still have testing I'd like to do." He'd say, his eyes turning over to the young female magician who had been invited.  "Some of you, maybe aware of the power I offer already and the plans I may weave" he would say glancing at the slaver who had witnessed Remus' DMV.
As he looked over to the male magician and the Sasanid pyromaniac he would chuckle out "While others of you have shaken those you've seen and shown your intentions so brazenly!" His words enticing and entrancing he would hop down. "I'm here to offer the chance for that power, I will gladly share why in hopes you will choose to offer more in the grander scheme!"
Approaching the dark magi would bow over, inviting them all to approach closer. With each step, the room would breathe heavily. They had no magic to protect them, they had no weapons to fight. The only had their intentions and words to wield against others. The Contractor had no need for lies, in the end, their actions would always end in his benefit, but it was nice to have those dedicated to a cause. It was no battle, but it was a field of wits in its' own way.
DM notes:
No posting order, step forward, and share what you wish about your plans and characters, ask what you want. This will be a brief thread so the discussion of DMV plots will begin next post immediately.