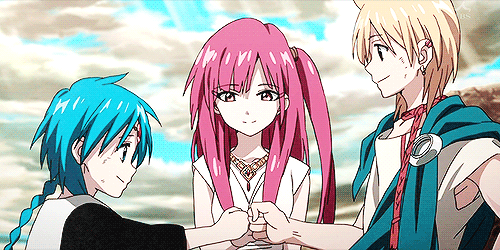 ---
---
As the horizon brings the darkness upon on the illuminated world, people gather together. Band together, and delve into the dark of the night that is casting onto this vast World of Magic for there are great rewards to be earned, no matter if you are new or old. Link arms and weave tales with new and familiar friends.

In this special event, every player under B-Tier who completes a Job or a Coliseum Match with another player will receive double Huang and XP! Any player B-Tier and higher will receive double Huang and one bonus tier lower of EXP. RP Together will last until the beginning of the next part of Magi World, an end date will be announced when that time is upon us.
(Ex; B-Tier players complete a B-Tier job. They will post in B-Tier rewards once, and in C-Tier rewards once.)
---
Anyone who has not claimed an equivalent or higher value reward in the Advertisement Event is eligible to claim rewards for the RP Together Event! Characters of a player may be used to total up a total Wordcount for a Reward, but RP with your own Characters for a Reward is not allowed.
You may not claim a Reward more than once. RP with others for a total of _k Words in completed Jobs or Socials to claim a Reward.
Note that rewards are cumulative. If you write 10k Words, you gain all rewards for 10k Words and below. Huang rewards do stack.


1k Words - 25,000 Huang


2k Words - 50,000 Huang


4k Words - 100,00 Huang or 1 Additional Trait Point


10k Words - Extra Shard of Solomon

---
Code:

[b]Name:[/b] (Character(s) Name)
[b]Characters RPed With:[/b] (List of the Characters you RPed with)
[b]Threads:[/b] (Wordcounts must total up to the required Wordcount of the Reward being claimed)