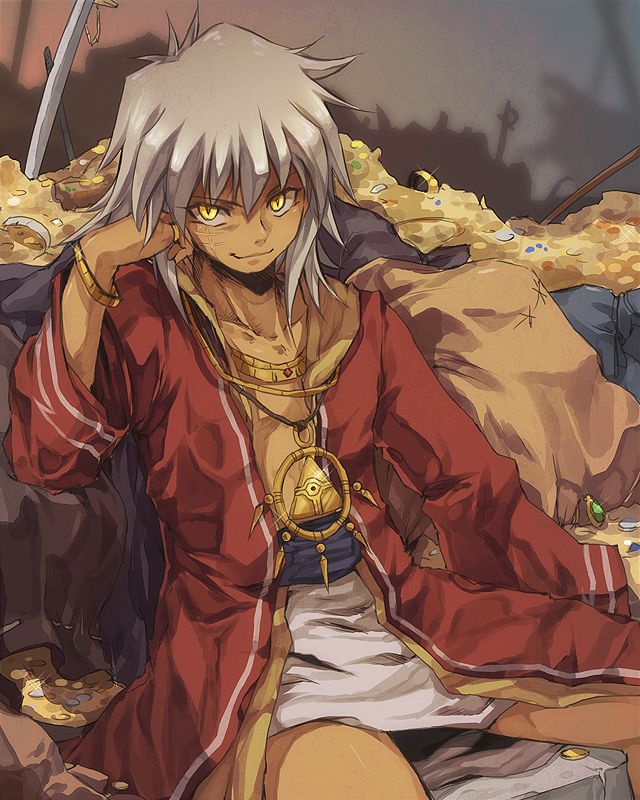 Name:
Ramesses
Country Affiliation:
Heliohapt
Race:
Human
Tier:
D
Class:
Beast Tamer
Age + Birthdate:
20 + Dec 11th
Gender:
Male
Sexuality:
Heterosexual
Personality:
Ramesses is extremely clever; years of studying has sharpened his mind. No matter the situation he can quickly think up a solution to help alleviate any problem.   That being said he is a calm in most situations. It's hard to make him lose his cool, although quite possible. Only if certain buttons are pressed. Lucky learns fast and is extremely knowledgeable about the human body. He's even has knowledge of various animals bodies.
Ramesses will lie in a heartbeat. Of course it's not as if he is just a pathological liar. He lies in situations he think might be helpful to him or furthering the power of his kingdom or himself. He does not care what race they are nor their affiliation,if it furthers his goals or those that benefit Heliohapt, he will lie to them. Sometimes even lying to his friends if need be.
He is a secretive man. This would probably be his second biggest personality trait. His face more times than most has a smile on it. In some situations where most people would think to frown his face remains calm, with a smile. He never lets what's going on in his head, or what he is planning out unless he truly trusts someone. Despite this all this he generally is a laid back and humble man.
Ramesses has a extreme sense of loyalty to his own Kingdom, his friends, and Family. It's to the point that any kind of act of distrust and he will try to eliminate them. He isn't a man that can be swayed to join a different side easily, as he is a stubborn man and has tunnel vision on his ideals. This comes from years of being raised in the slums. Meaning he also has no problem cutting ties to people.
He is a man with a powerful presence. The presence of a conqueror; a person who overcomes and vanquishes their foes. It's hard not to notice him when he walks into a room. Only few people have seen him angry and have had to share the same room with him. They recall it becoming difficult to breath and chills. Ramses has heard these things and says that the people who spread the rumors are over exaggerating.
Likes:
Believe it or not, Ramses actually enjoys the desert and Sun. Even taking it as far to say he feels closer to thesis than most people.
Ramses puzzles and mind Games. He can often be seen with some form of puzzle or game that challenges his mind. He feels that the mind, if used correctly is far more powerful than any sword.
He loves learning things. Ramses has a sharp mind, meaning he could catch the smallest details of something and remember it. He often goes to any type of library or ruin to study.
Dislikes:
Given his love of learning and general personality, Ramses dislikes any loud person. Perhaps it would be better to say loud noises in general would upset him. Ramses would got out of his way to silence any noise that cause him displeasure. He does not discriminate from man, woman, or child; not even animals are safe from his fury.
This is probably his most discerning dislike; that would be his pure hate of the concept of Slavery. He feels as though you shouldn't have to belittle someone in order to make progress. Maybe it was due to his upbringing, but the young Heliohapt man will stop in the middle of the road and confront anyone with Slaves. This has often gotten him in some trouble.
The current Regime of Heliohapt is Ramses last major dislike. He feels that do not care about their citizens and are running the Kingdom into the ground. Ramses thinks that it may look nice on the outside and to visitors, but in fact it is a truly horrible place to live.
Aspirations:
Ultimately Ramesses has but a single aspiration and that is to live life to the fullest. He wants to live a life that he couldn't have and for the sake of his younger sibling that passed. Putting it simply he wants to live better. That being said Ramesses ceases every day like it is his last. The saying Carpe Diem is the perfect symbol for the feelings which Ramesses possesses. Seize The Day is Ramesses motto.
Phobias/fears:
Ramesses is afraid to be alone. He understands with long life also comes solidarity. Death is as common as life in the world, however loneliness brings a longer lasting pain than death ever could. In a way Ramessess belief is that all fears stem from this one fear of his. Of course that is but mere speculation on his part considering he doesn't see the need to ask any and every person what their fears and phobias are.
Face-Claim:
Bakura King of Thieves
Hair Color:
White
Eye Color:
Gold
Height:
175.30 cm (5 feet 9 inches)
Weight:
68.03 kg (150 pounds)
Appearance:
Ramses is 5'10. Within the average height for most men. His hair white, with fierce golden eyes. It appears he has a scar over his right eye, however it is nothing more than a birth mark. More times than not Ramesses wears a red robe and off white shorts. He keeps the rob open to allow what cool winds they get to caress his skin. He wears a pair of wheat sandals. These sandals are woven and have a strap around the back that allows him to tighten them. He wear a golden ring on his right ring finger. While his pendant hangs from his neck from a slightly thick, but sturdy brown string. He wears a golden bracelet on his right wrist.  While wearing a golden chain and large necklace with rubies, sapphires, and emeralds fashioned on it.
Rukh Alignment:
White (Chaotic Neutral)
Special Features:History:
Ramesses was born on the 11th day of the 12th month. He is the oldest child of three. He has a younger sister and brother. He lived the life of single child for seven years. During that period of time his life was that of a average child in the slums. One thing made him different from the others however. As a child he was a reckless, yet clever. He would always be out running around with his friends. They would run amuck around the slums. They did everything from stealing food to causing damage to the neighborhood.
It was all in good fun for them. Strangely enough they never got into trouble. Ramesses and he friends brought life to slums, which was normally filled with death in many forms. His life changed one day when he found a pendant, while running around the slums. Him and his friends were playing a game of manhunt. Ramesses had run down a narrow alley. So narrow he had to turn sideways to squeeze down it. It opened to a small plaza. The plaza had three similar alleyways. There was a plot of land and a small tree in the center of the plaza.
Something drew Ramesses there and what he found was a somewhat large egg with golden speckles. Once he touched the egg a powerful gust of wind blew around him. He saw a single white glowing butterfly fly in his field of vision before disappearing. Suddenly the voices of his friends echoed down the alley drawing his attention away from the butterfly. He picked up the egg. Wrapping it in his shirt, Ramesses exited the alley in the opposite direction of his friends. He stashed the egg close to his home, before finishing the game of manhunt.
When he got home Ramesses found out his Mother was pregnant with his younger sister. 9 moths passed. By this time Ramesses Mother was ready to burst. He had kept his egg secret. Until the day his baby sister was born. Before his mother's water broke Ramesses had a dream of a immovable object. The world in his dream changed to a different place. He was in a room that had no walls. It was furnished like his though. When he tried to leave he ran into a wall. "Ouch." he said rubbing his face. Ramesses suddenly woke up to the sounds of his Mother hollering in pain.
He rushed to her bumping into the wall and a dresser, as his body adjusted to being up. He assisted his Father in giving birth to his younger sister. Before she began conceiving he was instructed to fetch the doctor. Once he did his little sisters birth went much smoother. Later that night when the family slept the egg began to glow and hatch. It woke Ramesses up from his sleep. He slowly got up to retrieve the egg from its hiding spot. It was in a small nook he'd made . Once he touched it the egg hatched completely. Different things within his room began being moved by a unseen force.
"Whoa." Those words suddenly appeared in his head. It was the normal reaction of any child his age. What hatched from the egg was a white mamba. It's eyes were crimson red and seemed to gleam once the two made eye contact. The next morning he explained everything he'd experienced and why there was now a snake in their home. His Father partly worried, while his Mother explained that Ramesses simply had a gift that most in the slums didn't have. He was able to Tame beasts of legend. Ramesses life changed after that. He became famous among his friends for being the first with gold. While the older folks around the neighborhood wonder where he managed to get such things.
Time went on and Ramesses started a neighborhood gang. They kept the peace more than anything, however they would 'collect' from certain people within the slums. Where's he gain this power? All those friends had come to respect him, which helped him assert his strength. When he turned 15 his parents had their third child a young boy with eyes like his older brother.
Role-Play Sample:
It was just like any other day in the Kingdom of Heliohapt. Hot with not a cloud in the sky. Wagons as well as pedestrians flooded the roadways. The local merchants were pitching their goods to anyone who appeared that they weren't from Heliohapt. Their prices of course far higher for those not privy to their schemes. What was most unnoticed however were the various alleys scattered through Heliohapt.
These alleys were passageways to the darkness of Heliohapt. The slums. A place where most didn't want to go or think about. Not only that it was a place where the demons of people were released. Ramses emerged from one of the alleys. He immediately garnered looks from everyone who saw him. He didn't mind though. Most of the people he payed no attention to, or returned their gazes with a simple smile.
Ramses had a journey ahead of him and needed supplies. Considering he had just killed his Master and stole money from her, he needed to move fast. Not that it mattered much to him. It was a untraceable crime, although he was prepared for someone to find out. He carried his staff over his shoulders with both his arms hung over it.


Last edited by Ramesses on 07/04/19, 03:47 pm; edited 3 times in total