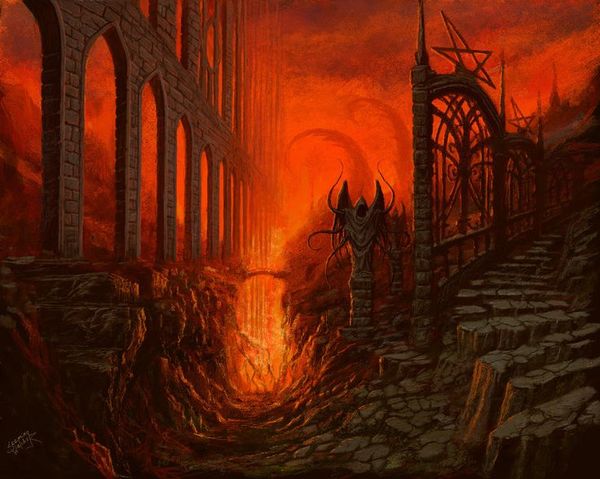 The pair would find themselves pulled into the world of the main hall. Their insides would turn as their vision went white. A blinding light had flashed them as soon it faded into intense streams of reds, yellows, and oranges. As it swirled and faded around like a fire they would quickly shoot out, their vision going dark for a moment as they would impact in the ground.
They would tumble forward a couple of meters. The rough red rock scraped their skin. The ground was warm, the heat glaring down and surrounding them was even more intense. It was as if they had been just tossed through a bonfire. While the heat would get them up quicker the two would become more aware of the surroundings as everything blurred together.
The smell of death lingered ahead, the air was burning. Their noses were burning as they picked up the scent. Noir would notice the strange building in the distance, they looked familiar. It would remind her of how previous dungeons seemed like cities as well. It was a broken down and burned one, and like most cities, it had a population.
Ahead noises would be heard, the fanalis would pick up the soft and pain-filled moans that lingered ahead. He would hear other movements ahead as well, there was someone ahead of them but he could only hear the traces of them.
They would both feel and notice something pulling them forward. Something would urge and point the pair towards a large canyon 80m ahead. Something was down there, Gamigan was calling for them.
A fire fueled the air and the adventures had their task. Interesting contenders. A Magical Maestro with the power and mind of a King Candidate. A Crossroad Kid with plenty of options, both were rays of hope for their world. One with achieved potential and the other waiting to find it. A dungeon to test and tell, to see if they will find or will they fall.
DM notes: Canyon is 80m ahead.
Players have 48 hours to post. Failure to post within 48 hours will result in an auto-matic proxy post.