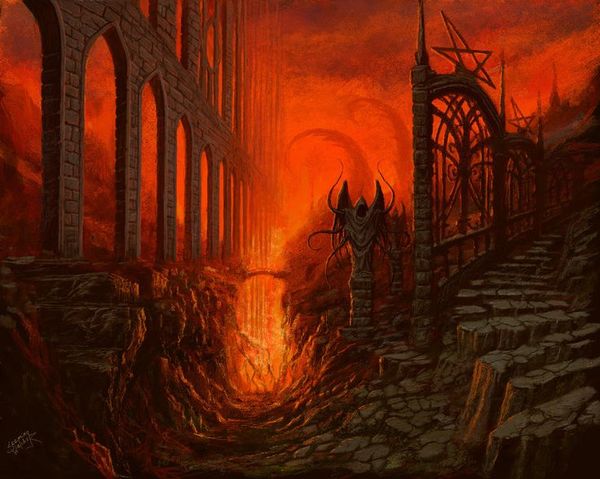 Sweltering heat would consume their bodies as blinding light stole their sight. For a brief moment, the group of four would see a vivid world of red hues. The colors warped and stretched as they soared through nothingness. Flickering flames danced against their skin, burning slightly as their senses started to turn online before everything went dark.
Knux would land on his legs, falling forward onto his face as the angel that joined him flew out face first into the burnt ground in front of the fanalis. The pair would get a brief moment to stand up before they would feel an intense burst of heat behind them. A portal of fire opened up, and from it came Jahan and Zuzu.
The hafling and the mage would roll against the ground, the female rolling forward landing roughly on her rump. While the King Candidate would roll on his side bumping into the legs of Knux. They had all arrived soundly even if it wasn't safe.
The smells of fire, of death, had found their way possessing their noses. The source of the scent wasn't hard to find, only 20m ahead of them were soldiers, not ones of the dungeon though. They were soldiers of Kou, it seemed there were men from both sides. They had made it into the dungeon, killed and burned each other in the wasteland. Past them, the smell of death would follow through, for 80m ahead was the mouth of a canyon. It pulled them all, something was pulling them.
As the heat was hanging overhead the group would need to start moving. The longer they stood there the more the heat would singe the bottoms of their feet.
The two fanalis in the group would be able to notice something, their ears would pick up on moans. They were pained, they would feel the sorrow creep. There was a dissonance though, there was a closer moan, there was a sound that was much closer. It would be up to them to share the discovery, the others would eventually be aware but something was waiting ahead.
Another group was beginning their trek. Delusions, delusions of winning, of ruling, of oneself, of the world. This hell would burn at the Grandeur Delusions of the Self Sworn King. Fighting and fueling the Amnesiac Angels own while breaking or building at the ones of this Wicked Witch Warrior and this Resurgent Red Lion.
You have 48 hours to post. Failure to post in the 48 hour time limit will result in an automatic proxy post.