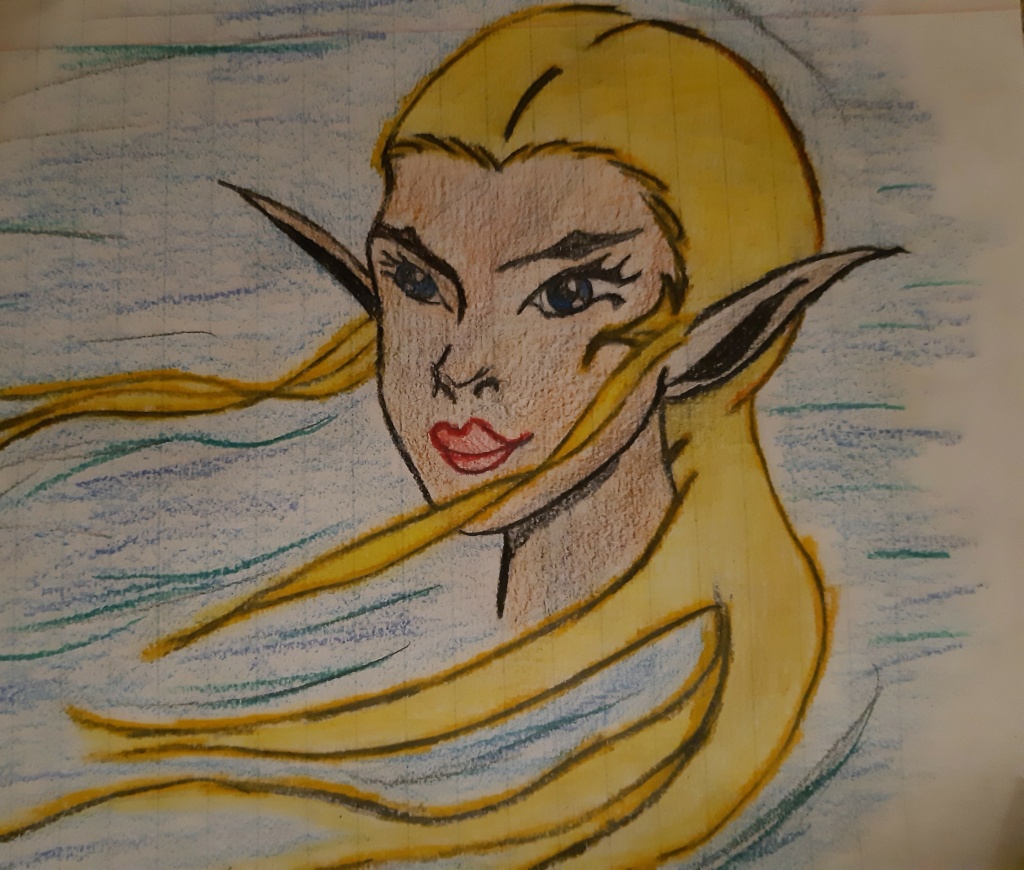 Name:
Arya Dröttningu
Country Affiliation:
Imuchakk
Race:
Imuchakk
Tier:
D
Class:
Warrior
Age + Birthdate:
19 years old. 14th of October
Gender:
Female
Sexuality:
Bisexual
Personality:
Arya is a calm calculating person that prefers to think using logic.
Unlike the wild trong winds and storms her mind is like a nice summer breeze.
She does treat every person she meets along her travels with respect no matter the race or status in society someone has.
Because of this trait she  is angered less easily  but that can sometimes make her come across as cold or emotionless.
It also makes it a bit more difficult to go all out at parties for example. Because she thinks of her own self esteem and does not prefer to make herself look like an idiot.
It does not make her worse on a social level. She can be quite the talker and isn't someone that bottles up her emotions.
Arya is a proud Imuchakk that is proud of her blonde hair.
She also does enjoy putting time in looking good. She does follow a diet to keep her weight and pays attention to her physical fitness by working out.
She is a positive and optimistic person that is eager to learn.
Because of her positive view on life Arya is usually smiling.
Afterall when you look happy and smile you are usually better looking than someone who is negative and sour looking.
It also is part of her combat philosophy. If you smile, stay calm and make it look like you are not scared you ins[pire teammates that they are safe and will encourage them to not give up.
WC : 249
Likes:
Hard metal like music. In secret she does like this music and if she is all alone and sure no one is looking she even can go all out dancing and headbanging.
Nature and traveling. Arya loves traveling. eeing the world. The beautiful and the ugly parts. The woods, cities, farmlands, mountains, tundra and more.
She has a huge passion for nature in all its forms and shapes.
Cooking. It helps her calm her mind whenever she is mentally in a pickle. She also likes all the creativity someone can put on a plate.
Her blonde hair and her body. He is proud of her body and sometimes a little too much that causes her to waste too much time in front of the mirror.
Crushing things. He likes the feeling of punching something or crushing something with her feet. The feeling when she fights and feels her first break through trees, giant rocks,  armor, shields, flesh and/or bones gives her a mental sexual thrill.
It makes her feel strong and good about herself.
Creative & positive people.
Dislikes:
Negative/sour people without passions in their life. People that do not have any respect for others and are diagnosed with  narcissism/god complex.
When people disrespect her or try to talk her down or make her feel like she is less than someone else. She believes people should treat one another with respect and give everyone they meet the benefit of the doubt at least.
Before they make their judgement of someone because of status, gender or race.
Simple petty things. For example a petty competition who can eat the most cheese, who is the fastest, who works the fastest or hardest etc.
Saying or doing silly pathetic petty things.
When people neglect their garden by putting no work into it. She alsso dislikes it  when the garden is filled up with just stones and bricks with almost no plants.
It also pisses her off when someone without the right knowledge claims to know how to do things gardening wise.
Aspirations:
Her dream is to travel all over the world. Meet people, make friends, find travel companions and learn about the culture of others.
She also wants to see everything the world has to offer with all the different landscapes, insects, plants and animals that inhabit certain parts of the world.
At a young age Arya did get a sense of wanting to do more than just growing up, getting married, make a family and die at an old age.
She wanted to see, smell, feel and obtain all the beauty the world had to offer for those curious enough to look for it.
She also developed a secret love for plants and gardening. Designing a garden and working with all kinds of plants to create something beautiful.
Its one other reason she travels around . To find and discover all kinds of plants to put in her imaginary gardens she would dream off every night.
This also gives her aspiration to make gardens. Small or big it doesn't matter. Once she has obtained alot of knowledge Arya aspires of creating the most beautiful garden in the world.
Making people travel all over the world to see her creation. The downside of this is that it might clash with her will to explore and travel because making that garden would force her to stay in 1 place for a long time.
wc: 229
Phobias/fears:
Going bald.
She does like her blonde hair A LOT. It has gotten to a point that one of her worst nightmares became going bald.
Claustrophobia.
She likes traveling because of the freedom it gives her. In small spaces where she can barely move it feels like this freedom is taken from her.
She prefers to have paces to move around and to go where she wants to go.
Despite this phobia Arya is trying to overcome this fear. She wants to be able to push herself when she really has to.
Face-Claim:
My own drawing.
Hair Color:
Blonde
Eye Color:
Purple
Height:
162 cm
Weight:
58 kg
Appearance:
Arya has long blonde hair and long pointy ears. What makes her quite unique compared to others of her kind. She has a slender body and wears simple but still fancy traveling traveling clothing.
From top to bottom Arya has a black hoodie big enough to conceal her face on both sides. The black hoodie then goes over into black shoulderpads. In the middle of the shoulder pad and at its sides is some metal for protection.
Three decorated leather strips hang on each shoulder pad as decoration. The hoodie and houlderpad are connected with the black shirt she is wearing underneath a long brown coat.
The coat has red straps that function to tie the coat together instead of buttons or a zipper. As the coat goes down it splits apart around her hips like flower petals. This allows her to move her legs freely.
Then underneath the coat and shirt Arya wears gray cotton pants with a black leather belt. Around her left thigh she has a black leather strap around it and two on her right thigh. Further down at her shinbone Arya wears brown leggings with yellow decorations. At her feet are big brown leather boots that do have black belt buckles to tighten the boots.
Her overall body language is that of someone confident. So she walks around with a straight back and her shoulders that are a bit backwards to show confidence.
Her general look is calm and her lips curled up into a smile.
Besides that she does 1st think before showing any other emotion. Sheoften does not behave impulsively but instead calculates the best emotion for that situation. It's why her most common face is that with a smile.
It's one of the best facial expressions you can have according to her theory. She is easily triggered if people do touch her hair without asking.
wc: 313
Clothing:
Rukh Alignment:
White Rukh
Special Features:
Has blonde hair instead of blue.
Has sharp pointy ears.
History:
Arya is born in a small village in the Tundra. The village was inhabited by not more than 100 Imuchakk. She was a healthy baby but her unique appearance was the thing that stood out.
Her parents were proud having someone like her as their daughter.
Her mother's name used to be Nasuada Dellanir. Later on when she married Arya's father her name became Nasuada Dröttningu. Her father's name is Morzan Dröttningu.
Morzan Dröttningu is a hunter who hunted for food, bones, trophies and pelts to sell.
Nasuada Dröttningu is a house mother and managed the shop that Morzan Dröttningu would provide with products. Nasuada was also a craftswoman who knew how to clean pelts and make clothing out of it. Arya also has a big sister named Sapphira Dröttningu.
Unlike her younger sister Sapphira did not have any of the weird trades she had. Her hair was blue just like her parents. The doctor of the village couldn't even explain this phenomenon. Besides this he was a healthy baby so they were not too concerned.
As a baby Arya was an adventurous one. The moment she learned to crawl she started to explore the building she was living in. She explored every nook and cranny.
This caused her parents a lot of stress. One moment they were looking at her daughter. They would look away for even 10 seconds and turn back around and Arya would be off on a new adventure. Her older sister obtained the task to keep an eye on Arya.
On one of Arya's adventures she came across  some flowers on the table. Usually people were not that observant and didn't even notice Arya would sit down and look at the flowers and plants in the house. This time was different. Sapphira caught her and created a strategy whenever she had to look after Arya. She would put a plant in every room. This way she knew Arya would be easy to handle. Nasuada and Morzan laughed out loud when Sapphira explained this to them. For several years this worked to keep Arya in check.
When she was 6 things changed. She had to go to school. Being out in the open it would be much more dangerous to let Arya walk around on her own.
As expected Arya was not really interested in making friends or playing with them. Instead she preferred to look at the plants and trees. The insects, worms and everything else that was a part of mother nature. Her biggest distraction was when she was going to school or when she was on her way back home. People in the village also were informed about this behaviour. They noticed Arya would walk around in the gardens of others. Sometimes just looking. Other times she was screwing the place over "to investigate something."
The villagers had mixed feelings about her. They liked her and when she was just talking and asking questions about their garden's plants and designs. The other times they would chase her out of their gardens and back home with brooms.
Getting older maybe made her wiser but it also made her even bolder then she already was.
Arya became more sneaky when she was on a screw garden hunt.
The curiosity she felt to explore was too strong. Her mind couldn't stop this rebel.
She also started to study biology, geography and botany. Alongside that she read books about how to design gardens and drew maps.
During this period Arya was more free to stand and go where she wanted.
So instead of going home early to go to bed she was allowed to stay up and go out a bit.
Arya abused this opportunity to go to the local inns and taverns.
Usually the travelers passing through  the village rested overthere.
By paying them a drink the travelers would tell her about their travels. The adventures and beauties of the world. Exotic animals, monsters, cities, plants, the mountains and so so much more. Sapphira on the other hand was creeped out. Sapphira and Arya were close and so she would follow Arya and listen in.
Later when they would walk home Sapphira would ask her why she was so interested in something so creepy. Anna would have a big smile on her face and her eye seemed to be sparkling. With just that expression aloneSapphira knew enough. Sapphira laughed out loud and hugged her younger sister. They didn't have a lot of money but it was just enough to survive. Their house did only have 2 bedrooms. This meant that Arya and Sapphira slept together in 1 room. During the winters when it was cold they even slept together in 1 bed.
The only issue was that Sapphira was coming off age. She was 4 years older then Arya.
What meant that as a 16 year old Sapphira got more attention from the males.
Sometimes she had a boyfriend and this made sharing a room quite awkward sometimes.
When Sapphira had her 1st boyfriend she was really secretive.
When Arya is in the same room or walking in Arya would be pushed out of the room.
Being younger and weaker Arya couldn't protest. After being shoved out Arya she had to find a way to kill the time. As an explorer she would use this time to go out on her own outside of the village.
After being pushed out several times she got curious.
So she hid under her bed once for hours. Sapphira enters the room with her boyfriend.
This was the first time Arya witnessed something like what she was about to witness.
Arya would lay under the bed without making a sound. Confused by what was going on.
The sounds were confusing too. Is Sapphira having fun? Or is he hurting her?
Then she heard a loud *SLAP!!* It seems the guy was not as nice as he made himself appear to be. Or maybe Sapphira was into this. Arya didn't know any better than her sister getting hurt. With a loud roar Arya flipped over the bed she was under.
Both the male Imuchakk and Sapphira were stunned by Arya's sudden appearance but Arya noticed the tears on Sapphira's face and  a red mark of where he got hit.
Arya punched the male as hard as she could in his face. She felt his cheek against her fist. It felt kind of good. So she punched him on his nose next. His mouth started to bleed.
He stood up to attack Arya and lifted his own fists. Arya ducked and hid behind her arms scared. She felt a fist against her arms. It pushed her back.
Sapphira did not care at this moment and joined in. She grabbed the male from behind so he couldn't punch Arya again. Arya saw the opportunity. She clenched her fist and pushed it to her hip. SHe steps forward swinging her fist upwards, upper cutting  him between the legs.
Then their parents entered after hearing all the commotion. Morzan threw the guy out of his house and told him to never show his face again near his family. After that Sapphira clinged on Arya as she cried. After witnessing someone hurting her big sister like that Arya would warn every male Imuchakk that she would hurt them if they would hurt Sapphira.
As time passed by the 2 sisters grew closer everyday. Of course they did their own thing and were seen apart. It's not like they would walk and go everywhere the other went but their bond was strong. Arya kept exploring and learning. She also discovered her thrill for punching things and started to train herself in hand to hand combat. She would become known to start brawls just so she could get some practice in.
Besides that Arya started to work with Morzan helping him hunt.
He of course learned his youngest daughter everything he could while Sapphira was more into the work Nasuada did.
The next 4 years are less eventful. It all changed when she turned 16.
In that same year Sapphira found a partner and had moved in with him.
Before they got married this male Imuchakk didn't just need the approval of Nasuada and Morzan. He also had to get the approval of Arya. It's something Sapphira had requested.
It was unusual and because of it villagers complained but she did put her feet in the sand.
Arya only wanted the best for her big sister. A lot failed because convincing Arya was harder than they thought. Eventually 1 was up for this task.
At the beginning this was extremely difficult for Arya. The room she lept and grew up in was suddenly so…. empty….! She would go so far as visiting her sister at her new home almost everyday. Luckily neither her or her husband has an issue with this. Both felt sorry for doing this to her and gave her the time she needed to get used to this.
Later that same year Morzan fell ill. He couldn't hunt anymore. So Arya took it upon her to keep hunting. While her father could rest and recover. She packed her  lunch and  her hunting tools. Kissed her father and mother on the lips. Nasuada would wave her daughter out. This would be the last time Arya would see them.
While she was hunting she got caught in a really rough storm. As her father teaches her she dug a hole in the snow and hid inside. Arya waited and waited patiently but in her head it was going wild. She was praying her family was okay.
As soon as the storm showed signs of slowing down Arya  dug herself a way back up.
She went back to the village as fast as she could. She was not ready for what she was about to see. The storm hit the village. It was all broken down. Houses were collapsed and destroyed. It was quiet and she didn't detect any movement. She rushed into the village. Through all the rubble Arya made her way home. Her home was gone. She screamed the names of her parents. With an axe she chopped herself a way in. She found her parents laying in bed together holding hands. They were both dead crushed under the weight of the roof. Tears welled up in her eyes. Without thinking her legs moved to where Sapphira lived.
She screamed her name. To her relief Arya hears the voice of her sister begging for her help. With tears flowing down she is able to free Sapphira.
Sapphira smiled when she saw Arya's face. Arya pulls her out and carries her to the road.
Sapphira is bleeding a lot. As she is laying on the road she clings to Arya like they used to do. The snow around them turns red.
She looks at Arya with a smile and asks: Show me that big smile with those sparkling eyes of yours. I want to see it one last time. I'm sorry for failing you and leaving you again.
I know it must have hurt a lot. You must have been so lonely. Oh Arya my sweet rebellious little sister. Arya's are wide open. No no you are not going to die. Don't talk like that Sapphira. Shut up! Shut up! Sapphira lifts her hand and lets her fingers go through Arya's hair. Im sorry, really. You will have to stand on your own now. You have to become a woman and be strong. The world out there will be rough. To get through this you will have to become as strong as stone. You are my hero Arya and always will be. You protected me so many times and even now you come to my rescue while all I did was shove you away and left you all alone. The difference between you and everyone else in this village wa alway your strength. No one else here wanted to go out and see the world except you. Arya please go and don't stay here. After I am gone I can't stop you anymore but I ask you please. This time it's your turn to go. Open your beautiful wings and flower petals. Then go with the wind and explore the world in our name. I will watch you from above and always be on your side.
There's a lot  of evil out there and you will have to learn to hide your emotions from them and be smart. Sapphira pulls Arya closer. Then she kisses Arya one last time. WIth the last strength she has left like she never kissed anyone in her life before and Arya answered.
I love you my little sister Arya. With these words Arya feels the strength leaving Sapphira's body.
The tears won't stop flowing. She sits there for hours holding Sapphira's corpse.
Her past flashes before her eyes. All the memories she had with her family.
Morzan, Nauada and Sapphira. They were gone but it was so much to take in.
Her eyes are wide open. Tears flow. Her arms hang weak alongside her body.
She then opens her mouth and releases a loud scream. She screams as hard and loud as she can until her throat is soar. She felt like she was on the wrong side of heaven and the righteous side of hell.
Arya ends up sitting there for 3 days without drinking or food. then she finally is able to stand up again. The cold had made its way inside her and she was shaking on her legs. they looked like 2 twigs in the wind. She dug up everyone in the village and buried them with their families. Arya makes a special one for her parents and then a special one for just her sister. She uses what is left to use from the blacksmith and glassblower tools to make a coffin. The coffin would mostly be transparent. This way everytime Arya returned to the village she would be able to see Sapphira and talk to her about all her adventures.
It took her a month or 2 to get it all done. Then she packed her bags and walked away without turning around. She didn't want to look back. Because she knew if she would look back now. She would fail Sapphira. She wouldn't be able to stop herself from running back and staying. Arya traveled to wherever her feet lead her. The young 16 year old female Imuchakk would survive on her own for the next 3 years. Meeting people, meeting traveling companions and witnessing things she had never witnessed before. Every night she would pray for the souls of her family and tell them about the day in secret. So no one could hear her. She followed the advice Sapphira had given her. She became calm and collected. She hid her emotions and buried her wild rebel like self deep within her heart until it became natural. She became a wanderer traveling from place to place but never finding a place she would be able to call home again.
wc: 2526
Role-Play Sample:
Legenda:


Arya
Caphalor
Sinthoras
Ku
Kabutop

After traveling for 3 years Arya traveled to a  lot of places. She of course explored the tundra 1st but she avoided most villages the 1st year. She prefered to be alone at that time.
The other 2 years she started to gain the strength back to be under the people.
Arya is now at a crossroad. On her left there is a 16 year old blonde girl.
On her right is a rich man on a horse with a spear and a strange blue skin.
From the road in front of her is a couple. The woman had black hair. Her husband is blonde and carries a word and bow. The husband has the same odd strange dark blue skin as the knight on her right and wears armor.
The husband waves at the knight. Hey Sinthoras, how is it going? He then looks at the left and waves at the girl. Hey Ku didn't expect we all would meet on one crossroad. I thought you lived in Reim now. I just had an odd feeling that I had to walk to this particular crossroad. I do not know why. What about you Caphalor? Same thing here. Same with Me Cap and I see you brought your wife Kabutop with you too. Looks like you two are inseparable even now. Any children yet? Pffff Sinthoras dont be so rude or do you want to lose your eyes? But yes we have a boy. We left him in Eye dea. Caphalor then turns to Arya.
Hello stranger out of all the people here you are the only one we do not know yet.
So who are you? Arya looks around. Deep inside she somehow feels connected to the strangers in front of her. Like they are connected. This crossroad felt like a crossroad of fate.
Meeting these people felt like destiny and she felt safe. Without even speaking a word to them.
My name is Arya Dröttningu. Im an Imuchakk. Well nice to meet you Arya.
Im Caphalor. This is my wife Kabutop, my best friend Sintoras and that cutie over there is Ku. Arya bows her head. It's nice to meet all of you. So why are we here?
Well Arya this is a crossroad. A crossroad is a place where you cross paths with others.
When you leave a crossroad you also separate paths with people you cross. You leave those paths behind or take a turn. It's really symbolic isn't it? Crossroads are so unique. Especially if you think about its meanings and philosophies.
When 4 roads cross each other from each side of the crossroad it's even more special.
You meet something 1st then you leave something behind but who knows maybe we would end up crossing roads again. Only fate can tell.
Now let's take time to celebrate and this special event together.
All 5 of them sit down. As they sit they talk and share stories.
Even Arya feels comfortable to open her heart. And it made her feel amazing for once. She knew this would be the only time she could open up. Before she would put her past locked away for others. While they are talking and having fun it gets darker.
Ku grabs her tinderbox and makes a fire. Sinthoras grins at Kabutop. You are going to cook right? Since ur Cap's housewife now? He winks and stands up. Kabutop draws a knife. What about I take your eyes and make them your own personal dinner. She runs after Sinthoras. Caphalor facepalms hard. Arya just looks around at all the commotion and laughs together with Ku. Kabutop eventually stops and gives up chasing Sinthoras. She kisses Caphalor and then takes the food out of her bag. Everyone else takes out their food too.
Arya offers to help Kabutop and Ku with dinner. The 3 women seperate themself from the man and prepare the food. They talk a bit while the 2 blueberries share a beer and prepare a big hut for them all to sleep in.
The dinner is one big party. There is music, laughing, joking around, talking, eating, drinking and storytelling. Arya felt so happy a part of her wished she would never have to leave this crossroad. She wanted to stay with these people forever. They keep going until everyone is asleep.
The next morning it's foggy. We all eat breakfast and drink tea or coffee together. After that we all pack our bags. Arya looks at all of them. Thank you so much. I can't explain how much this meant for me. I am grateful for meeting all of you. We are glad we could meet you too Arya. It's now time for you to make new friends. Don't close yourself off. Yeah you shouldn't walk alone and do everything alone anymore. Hey Arya don't stick to just 1 person like the wussy Caphalor and Kabutop did. It's time to make more and new friends.
Then why are you all not coming with me? Because that would be the same as being alone again like we were. You know what we are talking about Arya. You can feel it don't you?
I hope we cross roads again. We do too. Now go Arya.
Everyone  then goes on their way. As Arya is about to cross the crossroad and start on the new road in front of her she waits a moment. She then feels 3 hands push her over the line onto the new road. She looks behind her and sees Ku, Caphalor and Sinthoras with big giant smiles. Tears of happiness leak from her eyes. Goodluck Arya. Then the 3 characters disappear  in the fog like they were smoke. Arya turns herself back to the road in front of her and starts walking while thinking of what all just happened.
wc: 974