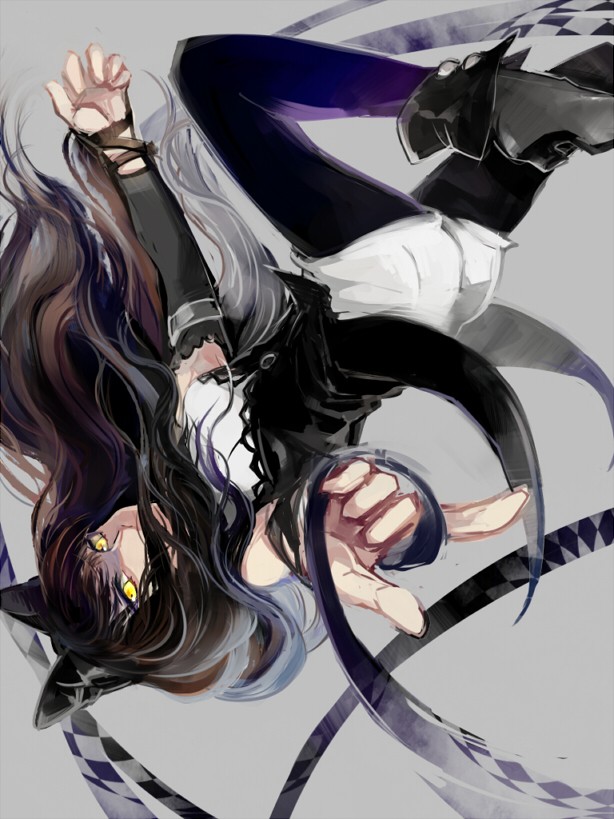 Name:
Noir Ecryola
Country Affiliation:
Magnostadt
Race:
Magician
Tier:
A-Tier
Class:
Magician (Lightning+Water+Strength+Sound+Wind+Life), Beast Tamer
Age + Birthdate:
18, Birthdate unknown
Gender:
Female
Sexuality:
Heterosexual
---
Personality:
She displays a cool, reserved, and serious personality most of the time, but doesn't lack a humorous side. Noir is a righteous person who has respect for other people's lives, she treats everyone equally and strongly despises those who judge and discriminate based on racial prejudice. Noir is also an open person and is not afraid to speak her mind. She can be a little introvert and most likely to spend her time reading a book. She rarely loses temper but when are provoked, she will go all out and causing her eyes become red causing her to speak her mind in the heat of the moment and even go as far as attacking that poor person. She tends to not easily trust someone very quick, but when someone gains her trust, then Noir will defend you by all means. Noir are a little stoic because of the hardships from the past, but she can be friendly and caring when she wants to. She may displays a dry wit, stating the obvious or pointing out details in a sarcastic manner, at the expense of other people if needed but she tried to hold it inside her as she knew that it will only attract unwanted things around her. Apparently Noir showed a rather different side of her if she is drunk.
Likes:
Books
~ Noir is very fond of reading since it was her only source of knowledge at the past, the library inside her house was also contain a lot of stuff that teach her basically anything she wants to know and let her imagination flows.
Cooking
~ She also has a interest in cooking because she only remembered eating bad food when she was enslaved and cooking was also the first thing her guardian taught her, it made her feel alive for the first time for having a good food.
Dislikes:
Rats
~ it drives her crazy by they non stop squeaking sound and it reminds her of the time when she enslaved.
Slavery
~ She also hates the slave system because she thought that it is very inhuman and disrespecting so many people, she believed that every people has to be free.
Aspirations:
Noir wishes for an equality for all people and races around the world. The aspiration occurs when she was kidnapped and being sold as a slave when she was a kid as she saw Fanalis and Immuchak Races being tortured the most by her own race, human. To achieve her aspiration, her first thought is to travel around the world and stop the slavery. She also wants to protect the people that she hold dear and in order to do that, she needs to get as much knowledge as she can and be stronger.
Phobias/fears:
The black haired girl used to be scared of rats, but the after meeting Dantalion in the dungeon, she overcame her fear. However, Noir was shown to constantly have the fear of seeing someone's death due to the recent events. Not like she is afraid of the death itself, but it is more like seeing someone that she know and she didn't wish to see them dead to actually laying on the ground, lifeless. She is scared of that and if it happened, she would blame herself as someone who was responsible for their death.
Face-Claim:
Blake Belladonna - RWBY
Hair Color:
Black
Eye Color:
Golden [Will change to red color when something inside her is triggered by certain event/situation]
Height:
162cm
Weight:
54kg
Appearance:
Noir has a wavy black hair and gold eyes, her eyes are slightly tilted upwards at the ends, giving her a somewhat catlike appearance. Her eyes can become red when she is going all out with her power.
Her skin is fairly white and people always concerning about her health because she looked pale all the time though it is her natural skin color.
She wears black low-heeled boots and stockings that start off black at her hips, but gradually fade to purple as they near her shoes. She wears black ribbons on both of her arms, with a black detached sleeve and a silver band on her left arm.
Noir wears a black buttoned vest with coattails, and a white, sleeveless undershirt that exposes part of her midriff with white shorts that may be connected to her shirt. She also wears a detached scarf-like collar around her neck.
Rukh Alignment:
White Rukh
Special Features:
Noir has golden eyes that will change into red when something inside her is triggered by certain event/situation. When that happens and it is uncontrollable, Noir might have another "persona" taking over her body. Although usually if it is controllable, Noir would only be in the rage mode.
History:
Prequel:

Noir did not remember anything about her past except her name, she only remember being held as a slave and were forced to work nonstop by her trader. After many years being sold to different persons that treated her bad, she finally had enough and escaped when she was 15. She realized that the chain can't be removed and everyone doesn't has any courage to free her, then suddenly she remembered that someone told her about magic, that it only can be casted by using a wand or a staff.

She quietly wandered on the street to find a wand, she knew that she has to steal it from someone, either she really can use magic or not. One night, while wandering in the forest, she found a house with no one inside, but there are food's smell and warmth inside. Noir decided to enter the house sneakily and tried to take some food until she saw a beautiful long box, then she touched it and a light appeared from it. But suddenly an old man stopped her and grabbed the box, scolding her for trespassing and then stopped himself when he saw the chain. He thought of something for a couple of minutes, and then freed her from the chain and letting her go right away.

Noir ran away as fast as she could, happy because the chain was already gone, but she stumbled and fell on the ground, exhausted. She was found unconscious by a woman and being taken care of until she woke up, when the woman asked her for her name, the woman recognized the family name and said Noir family's house is just right in the middle of the town. But she didn't even let the woman finished her explanation and ran right away to the mentioned place only to find an empty house with a slight massacre hint on the house such as blood stain and messy room. The woman who chased her finally got to finish her words by explaining that the whole family was killed during a robbery night, and their only daughter was never found. Since then she was taken care by the same woman who saved her because the woman was afraid that Noir would have a mental breakdown if she stays at the house which Noir agreed after many plead from the woman.

Noir always has interest in weaponry and magic, it might occur because of her ability to cast magic and her guardian's job as a blacksmith. She really liked to read books too as she always went to her old home just to read the old books stored there, it gave her new knowledge and perspective about anything that she wanted to know and the whole years she spend on being a slave instead of studying or playing like the other child being paid off by reading books. She learn how to use naginata by herself and practiced her magic quietly until the woman catches her casting spell of magic and strike of lightning came from nowhere and destroyed a nearby tree. Apparently, Noir was visiting the old man from the forest and he gave her a wand, told her to give it a name and treasure it, then also taught her how to use magic. The woman, having some knowledge about magic then advised her to go to Magnostadt to enter the academy of magic. Noir thought that by entering the academy will make her stronger and give her some knowledge, thus, her adventure to become stronger begin.
In her journey, she met a lot of people, each of them has their own uniqueness. There was some kind of impact from meeting those people, two person made her realize about how gruesome and sad the death could be and the recent event made her develop a fear to see someone that she didn't wish to die being dead in front of her. A person that she thought could teach her what she needed to know refused to see her anymore and changed into someone that Noir could no longer recognize although his appearance remained the same. Another person seemed to had changed as well in some part of his personality, but his belief was what made Noir worried about this man as she think of him as one of his dearest friend. Thus she knew, that people could change... as long as there was something that affecting the change, even the person that she thought would never change might change.
Noir got an ancient power, a strength from a being called Djinn in the form of a beautiful golden staff (Divine Staff) after she entered a place called dungeon, a place that was full of wonder if she could say. Also, the girl had developed the interest to learn about Torran language and is now trying to gain as much knowledge as she could. However, the black haired girl thinks that she need to go back to Magnostadt for a bit to take this test in the academy so she could be the best among the best magician in Magnostadt. Although, she might do a little adventure with a red haired comrade whom she met in the country of sand before that.
Role-Play Sample:
Noir sat on her bed, her "old" bed. She tried to remember the memories when she lived here, but nothing came on her mind, just blank. She tried to felt the warmth from the house, but she couldn't. She grab the picture beside the bed that was placed on the table beside and she saw a woman, a man, and two child, one boy and another one is girl. The girl looks so much like her, black hair, slightly wavy and she has gold-colored eyes as well. The woman in the picture has the same traits as her as well. She wondered how it will be if they are still alive and found her back home with no memories. She started to miss them, miss the stranger that she don't recognized.