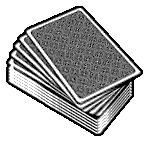 Name:
Cutting Chance
Tier:
B
Type:
Edged Cards
Material:
Steel
Appearance:
A simple deck of cards mades from steel with sharpened edges allowing them to to be used as throwing weapons.
Ammunition Material:
Steel
Ammunition Appearance:
Each card is 6.35cm wide and 8.89cm tall. They are extremely thin having a thickness of only a few millimeters.