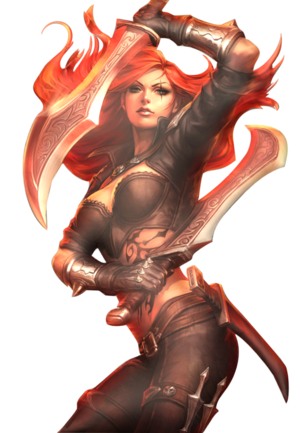 Name:
Kamari, Akame
Country Affiliation:
Wanderer
Race:
Fanalis
Tier:
D-Rank
Class:
Warrior
Age + Birthdate:
17, June 19th
Gender:
Female
Sexuality:
Bisexual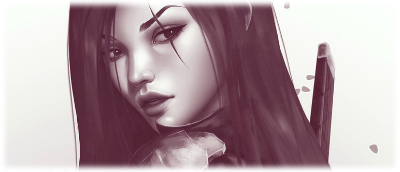 "Who Am I?"
---
Personality:
If you were to ask most people, they would say that Akame's personality is distant and cold. She likes to keep people away form her, and do what she must to achieve her goals. For this reason she pushes a lot of people away. That said she does tend to take things put in front of her very seriously and she takes a kind of "whatever takes attitude" when she attempts to get things done. This is taken a step further when it directly involves her or those close to her.
This however is not the entirety of her personality. Once people begin to break down her walls and barriers, they'll usually find her to actually be rather warm, and pleasant to be around. Like most people, at least once her walls are down, she has a sense of humor and enjoys peoples company, and can even smile once in awhile. Most people just never find out how pleasant of a person she can be, because most never take the time to truly get past her walls, which is honestly what she wants. Though her tendency to "do whatever it takes" and take certain matters very seriously is just the same, if not enhanced by the fact that you've gotten around her defenses.
Likes:
If there was only two things in the world Akame enjoyed, it would have to be fighting and the feeling of accomplishment.
Some might say her love for battle comes from the fanalis blood running through her veins, but whatever the reason may be Akame loves the thrill of a fight. Nothing is more fun than using her skills and training in a life or death situation, against someone who's likely equally matched as her, or several people for that matter. It's in these moments the girl truly comes alive, and some of the moments she smiles.
The feeling of accomplishment on the other hand is rather self explanatory. Nothing feels better than completing something you set out to complete, and being able to look at all the hard work you put in to get to where your standing at that moment. It's a few moments of bliss and pride where you feel like you're standing on the top of the world, and Akame loves that feeling.
Dislikes:
If there were only two things that Akame disliked, it would be cockiness and the dark continent.
Akame's distaste for cockiness is rather hypocritical, as she can be rather self confident at times herself. But there's something that gets under her skin specifically when someone is being cocky and they don't have anything to back it. Akame is perfecty fine if someone is confident and they have a reason to be. But someone who's all talk and no show specifically pisses Akame off.
The dark continent gets the short end of the stick when it comes to Akame, as it's not really the area the sets Akame off. But it's more so that it's where she came from and reminds her of home, and more specifically her tribe. And she wants nothing to ever do with her tribe ever again.
Aspirations:
There is only one thing in the world that Akame wants, and she wants it even more than her own survival. And that one this is to revive her sister. She'd give up everything she could if she could ensure her sister's revival, and as it currently stands she is scouring the world in sort of magic or information about how to do such a very thing. She knows it'll be a long journey, but this is the only thing she wants, and she'll do whatever she can to get it.
Phobias/fears:
There is only one thing that Akame fears. Nothing scares the fanalis girl more than the losing another person that she loves. She doesn't know how she would handle it, and doesn't want to know. It's for this very reason why she does her best to push people away from her. She doesn't think that she'll be able to handle it, if she loses yet another one. That said, once she does begin to close to people she's going to be damn sure to protect them with all she can.
"I've earned my scars"
---
Face-Claim:
Katarina - League of Legends
Hair Color:
Red
Eye Color:
Green
Height:
167cm
Weight:
65kg
Appearance:
Long bright red hair flows off of the Akame clearly marking her heritage, and is almost certainly her most prominent feature. This followed shortly by the scar carved down the left side of her face, over her bright green and piercing eyes. this is then followed by a a rather large tribalistic tattoo that runs down the her left side below her bust and just above the waist, which is made visible by the fact the amount of upper body skin the girl displays in her usual outfit. Showing off most of her stomach and cleavage in what appears to be a glorified jacket. This jacket however does cover most of her sleeves and goes into finger less gloves. This is much like the solid dark brown pants she wears which go down all the way to her combat boots, not exposing any skin below the waist.
This is usually combined with Akame's rather athletic body, and confident posture to create and appearance that while attractive, doesn't take away from the fact that it looks like she knows what she's doing in a fight. This along with the other noticeable scars that can be found around her body, though none as deep or noticeable as the on covering her eye.

"What have I done?"
---
Rukh Alignment:
White
Special Features:
-
History:
In a small undiscovered tribe deep within the Helohapt territory located somewhere near the dark continent, was born two girls. Twins with blazing red hair, and bright green eyes. Two halves of a whole. Twins weren't uncommon in this tribe of fanalis, and they were often celebrated, marking a great warrior being born into the tribe. It wasn't often the twins were female, but the tribe still held to there beliefs. One of the two girls would become a great warrior for the tribe one day, or so they believed.
It was for this reason that Akame and her sister were raised to believe they were two halves of a whole. A great warrior for the tribe, and ever since Akame could remember, her and her sister Kaname would train to become warriors for the tribe. This would involve rigorous intensive training. It became very clear shortly after they began this process that Akame was the better of the two at it, but she would always do her best to help her sister and when the two weren't training they could almost never be separated.
As a part of this training, the two twins would frequently spar against each other, and although Akame would do better doing the standard training, she could never beat her sister. Whether it was because her sister simply had her number, or simply that Akame couldn't find it in herself to fight her sister she couldn't tell. But as they got older, these training sessions got more and more deadly, with the two eventually stepping up to real weapons. Looking back, it was obvious where this build up was leading, Akame only wishes she could have seen it coming.
As mentioned this build up was leading somewhere, and on the twin's 15th birthday Akame and her sister found out where. On their birthday they finally found out why they kept being told they were two halves of a whole. They were thrown into an arena, and told that they were two halves of a warrior for the tribe, and to make that warrior one would have prove themselves by killing the other and thus taking the other half for themselves. The twins would have to fight to the death. Akame stood frozen, horrified. But she was given little time to think as her sister wasted no time charging towards her. The two fanalis girls had gotten much better at combat and Akame could keep up, but she was immediately put on the defensive. The two would fight for the better part of an hour, Akame on the back foot the whole time, and getting closer and closer to defeat. And when akame was looking death in the face, she closed her eyes, and did what she had to do survive. As a swing came Akame stepped into it, A large pain shot through her as the blade carved down the left side of her face, but she felt the resistance her own sword had had. She opened her right eye, her left shut with pain, to see the a mixture of surprise and relief on her sister's face. A single tear fell out of Akame's right eye, as her sister looked up at her, tears beginning to form in her eyes as well. Akame only heard the words "I love you" from her sister, but Akame herself passed out.
It didn't take long for the girl to wake up in her own home, bandaged up. She got up despite the pain and wandered out of her home into the waiting public, where she was cheered and celebrated. Infact it appeared the party had already started, but Akame didn't want any of it, and as the attention turned from her to the party, and night fell, she left. Turning away from her home forever.
It took a few nights and days, of pain and pushing through the hunger, but just as Akame collapsed, she was found by a caravan, and she was taken in by them. Given food and water, and traveled with them until she reached the Rem empire. It was from there she spent the next two years traveling around the known world, searching for something, anything, that could bring back her sister.
Role-Play Sample:
the back of a carvan was never comfortable. Akame knew this, but still it was the quietest place during the night. It's not like she intended to stay here long anyways. Just long enough that she could avoid the mid-night chatter around the fire. They always asked the same questions.
"Where are you from?"
,
"What's a pretty girl like you doing taking mercenary work?"
, and the occasional
"Are you a fanalis?"
. Akame didn't want to have to deal with any of it. At least not tonight. Akame layed back into the caravan and stared at the stars. The night sky had always been so beautiful.


Last edited by Akame on 11/04/18, 12:40 am; edited 1 time in total