Name: Ai.
Country Affiliation: Wanderer
Race: Halfling. Magician dominant, Fanalis recesive.
Tier: D-Tier [Novice].
Class: Magician, Life..
Age + Birthdate: 15, May 1st.
Gender: Female
Sexuality: Bisexual, attracted to both genders. Not attracted to male Imuchakk, or Dungeon Beasts. (Because of how large they are)
Personality: Ai is a very sweet and loving girl. She cares for everyone she becomes close to, and will cry even for the death of people she doesn't know. She enjoys meeting new people, and is terribly afraid of being alone. She treats others with a large amount of respect, unless she deems them unworthy of respect. She's often found blushing, as she's very easily embarrassed. Ai is slow, not so that she's very dumb, but just that it takes her a moment to catch onto things. She's very.. overly attached to her brother. Ai's favorite color is Red, since it's the color of her brother, and her father's hair. Ai doesn't often pay attention to her surroundings, and because of this she easily finds herself in odd or uncomfortable situations. When faced with danger, she quickly looks for help rather than trying to protect herself. Even though she's like this, she wants to be of use, so she's devoted her time to support others. She feels useless because she relies on others so much, and wants to help out more, even if it means sacrificing herself... There is no person more important than her brother, she see's him as a love interest, and a close family member.
Likes: Sweets, Ai loves any and everything that's sweet, whether it be sweetened milk or candy.
Plants, Ai likes plants, since they're lifeforms without consciousness, yet continue to provide for others.
Dislikes: Sour & Hot things, Ai dislikes anything that is sour and or spicy.
Cats, Ai dislikes cats because of problems she had as a child..
Aspirations: Ai aspires to become a Grand Magician, someone of high ranking and who has both experience and capability in using high-level magic.
Ai aspires to someday save someone's life, to help someone in a moment of crisis in which they normally would die. She wants to do this to prove to herself that she's useful.
Ai aspires to enter a dungeon. Ai wants to someday enter a dungeon with a few trusted friends, and to become a dungeon conqueror.
Phobias/fears: Ai is terrified of being alone. It's a horrible feeling she hopes she never experiences again. To Ai, being alone is similar to dying, and being separated from others for more than a few minutes will cause her to break down. She's only been alone a few times in her life, one of these times causing her to develop this fear. This fear can be suppressed if she "Feels" like she's not alone, or thinks so, such as hearing someone's voice, or having seen someone recently.
Face-Claim: Alice margatroid from Touhou.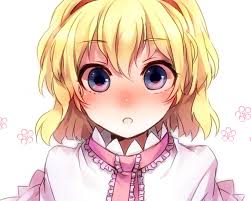 Hair Color: Yellow, Blonde.
Eye Color: Blue.
Height: 152cm, (5feet).
Weight: 45kg, (101lb).
Appearance: Ai has a very sweet, small face that compliments her large blue eyes. At first appearance she may seem to be a large, adorable doll! Her blonde hair is soft and silky, naturally curly. Her hair reaches down to just barely touch her shoulders, and is held by a red hairband. Her shirt is white and pink, frilled at the edges to compliment her soft white skin. Her lips are plump and kawai, colored a soft red. She wears white gloves, laces with red string. She wears a white and pink skirt with no lacing, that reaches down to her knees. She always seems kawaii and approachable. She wears white socks and black leather shoes. Fabulous~
Rukh Alignment: White Rukh.
Special Features: N/A
History: Ai was born second in her family, her older brother having been born two years before her. She was born into a fairly whealthy family, her mother being a noble from the Kou Empire, and her father being a former gladiator born in Reim. The two met and settled down in Reim, later giving birth to the sibling. Ai has always taken after her mother, both her eye and hair color, along with her complexion. As a baby she was always with her elder brother, since her father was often out at work, and her mother was doing housework. As she grew up, she became closer and closer to her older brother, thinking of nobody but her older brother when it came to love. She was fairly local, knowing most of the kids in her neighborhood, and most of the kids knowing her. There were many kids that liked her, and eventually there was someone that was determined to date her. He was older and stronger than her, and when denied he got mad and went to hit her. She turned and flinched, her borg activating at that moment to protect her, though still causing her to be pushed back. She screamed, crying as she tried to get up. Her brother heard her scream and ran to help her, fighting the other kids to protect her. In that moment, she felt overwhelmingly useless, not being able to protect herself and getting her brother hurt. When they went and told they're parents, her father was ready to run out and "Work some things out", but her mother was more concerned about the golden light that protected her. She assumed she might be a magician, so she began saving up and hired a tutor that was a well known magician in they're area. Her tutor was a noble from Magnostadt, and used a tool to determine Ai's type, Ai being determined a 8th type Orange magician. When she turned 14 her brother announced that he wanted to go traveling. She eventually convinced him to let her join him, and is now traveling with him.
Role-Play Sample:
Ai "Niichan, where are we headed today?" She said, sitting down on a stool and looking to her brother.
Brother He stood up, stretching a bit then walking off. "Nowhere special, just follow me and you'll find out."
Ai She smiled and jumped off the stool, following quickly after her brother. As she walked she hummed to herself, thinking of what the two might be doing today. She followed him outside, making her way past other people and trying to keep track of her brother, whom she had almost lost to the crowd. "Niichan! Wait up, i cant keep up with you!"
Brother He'd begin to slow down, noticing that he had been walking fairly fast in order to get to the location. "Alright, sorry about that." He walked back to his sister, reaching out his hand for her to grab.
Ai Her face began glowing red, blushing at 110%, smiling softly. She grabbed his hand, thinking many different thoughts at the same time, that she hadn't even noticed how far they had walked since they began holding hands. Eventually they got to the area that her brother had been wanting to show her. It was a large cliff with thousands of differently colored flowers, and a large tree at the edge of it. Ai cried, overwhelmed with happiness, and hugged her brother.