Name:
Merari
Country Affiliation:
Magnostadt
Race:
[ Magician - Dominant ] [Human - Recessive ]
Tier:
[ Noice ] [ D - Tier ]
Class:
[ Magician ] [ Sound ]
Age + Birthdate:
[ 16 ] [ December 5th ]
Gender:
[ Male ]
Sexuality:
[ Bisexual ]
Personality:


[ Two-Faced ] Merari has many faces that he uses when confronting others, using the face that would help him the most in that current situation. But, he is always careful to use faces that are similar to each other in some way so he wouldn't stretch himself too thin.





[ Prince-Charming ] Merari's sweetest "face". When he's using this persona, he appears to be a rather polite and sweet man who goes out of his way to help others. It's the one he often wears the most since he gets the most positive reactions from others using it. Though, Prince Charming tends to be his more flirtatious persona.

[ Mr. Hashishin ] This is his rarest "face", the one that he never shows unless he has nothing left up his sleeve, and if he's certain that the person seeing it won't be able to talk about it. It's his truest self. It's cold, ruthless, maniacal, and merciless. Mr. Hashishin doesn't show empathy, nor does it care to feel it. If he has to kick people down to achieve his goals, he would gladly do so and continue to climb.

[ Garasu ] Despite hating using this persona, this "face" appears when he needs someone to help him. It's not far off to say that it's his most manipulative face, using his youthful appearance to appear like some sort of child who needs to be saved with danger.

[ Airashī ] While his "face" is related to Prince Charming, Airashi is its own face. It's his most adorable persona, one where he acts frivolous, bubbly, jubilant, and childish. When Airashi is on, Merari uses his youthful appearance to its fullest manipulative capabilities to get what he wants.




[ Strategic ] Merari is always planning, always thinking of possibilities and what he should do to move him in front of others. He rarely does something without consulting about the possible consequences and resulting events.

[ Deceptive ] It's not far off to say that this sly dog is deceptive. It's hard to tell which of his words are truth or lies, for he's always thinking and never revealing himself.

[ Secretive ] Merari never directly tells something about him, and when he is forced to, he doesn't completely reveal himself. He has a thousand secrets and never breathes a word of them.

[ Envious ] Merari tends to feel green whenever he sees other people. He can't help but think about their lives, and how they may be better than his. How they may have families, or how they may have things that he can't possess. It makes his skin crawl, and he always feels disgusted.

[ Ill-tempered ] While Merari is able to hide his true emotions, Merari typically feels ill-tempered. Like a pot of water with a top that's about to boil over and explode. The feeling irritates him, which only serves to make him even angrier. On his worse days, it's harder for him to keep u the persona, and he often worries that someone might see.

[ Thirsting for Knowledge ] Merari, for all his faults, is a curious person. He hasn't seen most of the world, and he's interested in what's out there. Maybe if he wasn't so bent on revenge his life purpose would be discovering more about magic, such as more about how it could be used along with more types of combination magics.

[ Vengeful ] Arguably his biggest trait, Merari is a vengeful person. If you do something wrong to him, he'll never forget or forgive. He won't care what you did to him, and if he ever finds himself with the time, he'll repay the favor. It's this trait that drives him to hunger for the deaths of the Kuraba.

[ Possessive ] Ever since losing so much at such an early age, Merari has grown to become possessive of his things, even if they're people he's grown close to. He won't let them leave, even if it's of their own according, and if they try he often ends up losing his temper.

Likes:


[ Music ] One of Merari's remaining connections to his parents, music always manages to soothe him. When he's upset or grumpy, if he just breaks out his staff and plays some music, without using Magic, it calms him.

[ Eating ] Merari finds that when he's eating, he doesn't think much about his goals or his family. Like music, it's a break from his thoughts as he enjoys something simpler in life.

[ His Hair ] It's not far off to say that Merari takes marvelous care of his hair, better than some girls, even! He takes the time to brush his hair twice daily, after waking up and before bed and makes sure to keep his hair well-kept and clean.

Dislikes:


[ People-Watching ] Anger tends to bubble up in Merari when he watches other people. He always tends to focus on the happier people, the people who are laughing and enjoying a simple life. He envies them and he hates them. He, often mistakenly, believes that they have luckier lives, free of hardship.

[ Perceptive People ] Whenever Merari is around someone who's more perceptive than other people, he always feels nervous. Like they can see through him, that they can figure out what he's thinking and that they know. The feeling scares him.

[ Animals ] Like perceptive people, Merari feels uncomfortable around animals. He feels like they can always see through him, that they know what he's thinking and feeling. It makes him angry, and he often feels like wanting to kill them just to get them to stop staring. The only exception to this rule are crows, birds that he feels like won't judge him.

Aspirations:
The thing that Merari hungers for the most is the death of the Kuraba. His days are spent drooling over the thought; every decision he makes is a step forwards to complete this goal. He doesn't care if someone else slaughters them, it just matters that his own hand brought their downfall. Anything else would be unacceptable for the young man. He won't stop until each of the Kuraba has died, and he won't let anyone survive. They didn't offer such mercy to his family, and he won't offer the same to them.
A smaller goal that he has is to revive the Hashishins and recover their arts. He doesn't doubt that many of the clan's techniques died with the death of his family, but he still thinks of trying to bring some of it back.
Phobias/fears:
One of Merari's fears is of someone seeing through him and exposing him. It truly scares him, because what after? What if someone kills him? Or reverses all his progress in his goals would be erased and that his path would be harder.
He never thinks about his goals while out in front of others, and he never let himself think of depraved things. He doesn't want someone to see his Rukh and to wonder or threaten him. He lives in a country of Magicians, and he can't risk someone seeing his Black Rukh and realizing that he fell. Because if they do, they may try to stop him from achieving his goals, even though they're "justified".
Another one of his fears is losing the things he loves. He had already lost so much at such an early age, the thought of losing something, or someone, that he has grown attached to not only scares him, but it angers him.
Face-Claim:
Imanotsurugi from Touken Ranbu
Hair Color:
Ashy-White
Eye Color:
Red
Height:
164 cm (5.4 ft)
Weight:
47 kg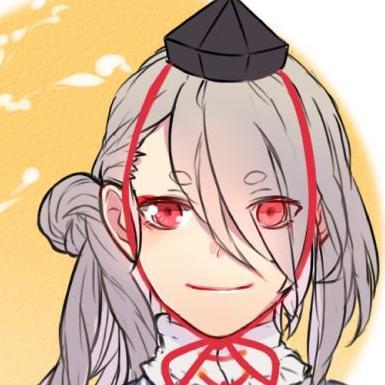 Appearance:
Merari is a boy of average height with white skin. He has pale, ashy-white hair that easily reaches past his hips, though he does try to keep it up. On his right, he has a messy bun to the side of his head, with a hair loop, with the rest of his hair in a loose ponytail. On the left, he has bangs covering a part of his face, with some parts reaching his shoulder.
Due to his upbringing in Magnostadt, Merari tends to dress rather poshly. Button down shirts, dress pants, slacks, boots, and the traditional black Magician robes. While his pants, slacks, and boots tend to be black, Merarri likes his shirts to of a cool color, blues, and purples, mostly. But when he's not dressing like that, he enjoys wearing clothes reminiscent of his birth land of Kou, with hakama, obis, and yukata with long sleeves. Like his "posh" clothes, these tend to follow a monotone and cool color theme.
When it comes to body language, Merari is very careful not to reveal his actual thoughts through it. He sometimes has to struggle with keeping an open body language, and he tends to be rather expressive with his emotions to come off as genuine.
Rukh Alignment:
Black
Special Features:
None
History:
Merari was originally part of the Hashishin Clan, a noble family that resided within one of the captured territories of Kou. They were rather tame on the front, though within their ranks were Half-Magicians and assassins. Throughout the underground, they were known for their mastery of their arts, from their extensive studies in magic to their techniques revolving around the use of poisons with their assassin techniques. They were known to use smoke bombs laced with hallucinogenic smog that would hamper their enemies to poisons that would cripple their limbs.
But an enemy of the strong clan was the Kuraba, a military clan that ground out soldiers and officers. They were long-time rivals of the Hashishin, and often took every chance they had to fight against them. But over the recent years, the aggression between the two families started to boil over, simple words almost leading to armed blows.
Meanwhile, Merari, the son of one of the head's daughters, and a Magician who came from a Magic-family close to the Hashishin was just a small child. His parents did their best to protect him from the tensions, with his mother trying to teach him the Hashishin's arts as his father taught him magic, specifically Sound Magic. It was the best life Merari could imagine, and it was happy. He had many friends within the close-knit clan, and they often played together.
But one day, relationships between the Hashishin and the Kuraba completely snapped and the two exploded into full-blown fighting. While it only lasted a single day, it changed Merari forever, and he would never forgive the other side for what he did.
The last time he would see his mother was when she hid him among clothes, giving him a concoction that would put him into a comatose like state before she disappeared to try to save her family. Merari, unable to fight back against the drink, fell asleep, and it was due to this poison did he survive, since during the aftermaths they had checked the bodies for survivors.
When he finally woke, several days later, all he could find was carnage. His clan wasn't strong enough to survive a direct battle against the Karaba, and he was suddenly left all alone. The boy, almost nine at the time, was surrounded by death. His family was gone, his childhood was gone, his home was gone. Nothing was left, and he was the only one there to mourn his loss. He was bubbled over with sorrow, grief, confusion and anger as he was alone there. The pain brought him to curse the Kuraba and the fate of his family, to scream and shout as he resided alone in that dreaded house.
It was hours later when relatives of his father arrived, cousins who heard of the fighting and came to see if anyone had survived the battle. There they found small Merari, trembling and crying. After getting the boy to calm down slightly, the two cousins, Alec Tacitus, took the boy back to Magnostadt where they hoped they could help the boy.
From there, he grew up with his Magician family, and over time he seemed to overcome the horrors of the fate that befell his actual family. He was always careful to show a smiling facade, that while he was he was quiet, he was "happy". Though, the boy never overcame the emotions that he felt that day, nor did he ever get over what happened. His rage for the Kuraba grew over the past years, and he still actively hungers for his revenge against them.
Role-Play Sample:
RP Sample