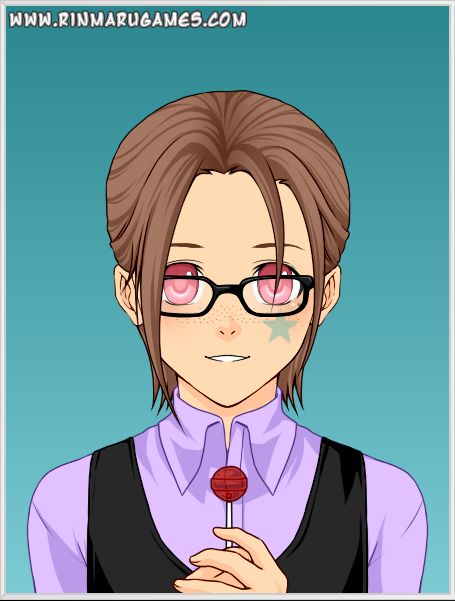 Name:
Agares De Lucas  
Country Affiliation:
Kou Empire
Race:
Human
Tier:
D-Tier
Class:
Assassin
Age + Birthdate:
13, February 31st ( 29th due to 31st only appearing every 4 years )
Gender:
Male[/b]
Sexuality:
Heterosexual.[/b]
Personality:
Cautious: He would very often sneak around the house in search of his father's stash of treats, the good ones he would give to Agares, when he did something exceptionally good. Because he would get caught very often he started examining his environment to more effectively search for the candy, and listen to small sounds becoming larger so he would be aware if someone was coming so he could hide.
Shy/Anti-social: Being slightly sensitive to the sun, he never went outside to make friends or talk to others. He would huddle in a corner with his room door closed when guests came over, and only ever talked to his brother and his personal tutor, and his mother. He very much preferred reading dialog than taking part in actual conversations. This caused him to become very, very anti-social, not to mention having gained a fear of older men due to his father.
Optimistic: Whenever he was with his mother she would always tell him to smile, and that if he wouldn't be able to open his mouth and wouldn't be able to eat candy. Not that he didn't smile often already though. He loved to make his mother smile, getting a fuzzy, warm feeling when she laughed at his jokes. Not only that, but he didn't like thinking about bad or mean things..
Moderate Knowledge: Since a young age studying and learning the history of Kou Empire was a simple for him to grasp. The students, teachers, and even his own mother only thought of kindly of it, with more work and growth of knowledge as he grew.
Multi-Personality Disorder: On another note, he has a split personality, while his normal one is happy and calm, his split personality is brutal, ruthless, and gives no craps about anyone but his brother. He's had the personality since birth and it gained these traits from the unconscious emotions within his head from being punished by his father.
Likes:
Sweet things: He loves sweet things because they taste good, and make his throat tickle.
Music: He enjoys listening to all kinds of music because it helps him calm down
Dislikes:
Spiders: They're so small but have tons of eyes and legs, its just nasty.
Clowns: He saw one at a street event that kept bothering him and attempted to take the candy he bought.
Aspirations:
He wants to be strong enough to protect his brother, instead of always being the one behind him. He sees his brother as a role model, and someone he can always aim to be like without ever being disappointed. To become more like him, he's training to get stronger. He wants to create a perfect Gu, to do this he is collecting and breeding insects. After hearing so much about becoming a king, and going to a world of fantasy from his brother, he eventually also wanted to go to the dungeons.
Phobias/fears:
Over anything, he fears the loss/death of his brother. Just thinking about his brother vanishing from his life brings him to tears, his brother being the last "Family" he has. Death scares him half to death. Hah, get it? No?... Ok... Death, and the pain that comes along with dying scares him. He doesn't want to die, and constantly thinks of it. He always wonders to himself if this or that can harm him. He's scares of magic, and magicians. Not much reason to this besides thinking that they're to dangerous of an existence.
Face-Claim:
Own Character
Hair Color:
Brown
Eye Color:
Pink
Height:
167.64 cm ( 5'5" ft )
Weight:
57kg  ( 127lbs )
Appearance:
He looks very, very feminine. He has very soft cheeks and large eyes. His eyebrows are hardly seen, but they're so-so in size. He has brown hair, which he has pulled back except for a two bangs. He normally wears black pants, a light purple shirt, and a black vest. He also wears glasses that don't do anything, just normal glass and frame. He wears hard black shoes. He carries around tons of hard candies in a satchel he carries. When he's in combat he quickly changes into a baggy black long sleeve shirt, and baggy pants. He takes off his glasses and satchel, and puts on a mouth mask and goggles.
Rukh Alignment:
White
Special Features:
None
History:
 Born february 31st, Agares was born with his father's traits, and his mother's complexion. When he was born he instantly became the entirety of his father's attention. To his father, Aseroth, Agares was "His child", a being in which had to be perfect, and live up to being "His". Agares learnt quickly starting words and beginning to read picture books at 4. Because of this, his father thought that Agares might have been a genius, when reality Agares just had a good memory, and easily put things together.
 His father felt that Agares was too smart for school, and that if he went to such a place he wouldn't be able to learn properly. So Aseroth purchased a personal tutor, who went by the name of Simon. Simon was exceptionally gifted, and very talented in communication. Simon started off by having Agares memorize shapes and the names of those around him. A few years passed, his studies still slow since he was so young. Even then, the amount of times Agares, went outside could be counted on a hand. Now 6, he made his first encounter with his older brother/slave  Aseroth, who for some reason had the same name as his father. When they first met, Aseroth, angrily spoke to Agares, which scares him. Soon after he went to his mother asking who the slave named after his father was, and to his surprise she answered that it was his brother.
 Agares didn't know how to feel about having a big brother, besides what he had read in books, that he should respect and look up to him. So he did, he visited Aseroth, regularly and talked to him. Sometime around then, it became even harder to find Aseroth, at night, and his mother had began showing signs of a cold. Worried, he asked his tutor what exactly happens when someone gets a cold. His tutor dodged the question with a question, asking if he would like to go to a street event. Not knowing what such a thing was, he answered yes and went. Their, he found many places that had candy, and so asked the tutor to buy him some. Soon after he almost got mugged by a clown for his candy, but got away.
 Agares, didn't know why, but around this time his father also started punishing him more often. Whenever Agares attempted to sneak candy, whenever he would talk friendly to the slaves, or whenever he tried to leave the house. Because of this, Agares, began developing a second personality in which was all his doubts and hatred towards his father who hurt him for stupid reasons. Also, he began practicing sneaking around the house, and quickly looking over things so that he could search for candy effectively without being caught and punished. Years went by, and not much happened besides him getting closer to his brother.
 One day his brother returned home dragging his father, both of them covered in blood. Unable to grasp the situation he couldn't mutter a single word. Following his brother around cautiously, sticking to the shadows, he followed him to his mother's room, peeking in every so often. Listening hard he heard the conversation, and while his brothers cries drowning out any sound that was made, he sat outside the door crying quietly, trying his hardest to get over it.
 Leaving with Asteroth, years passed and he continued to train his sensory abilities and basic body and weapon training in the chance something came up. In this time Asteroth was recruited to the military. Not knowing what to do, Agares also applied for the military
Role-Play Sample:
Travelling With Simon In The Market •
Simon, and Agares, walked the busy streets of Kou, heading to a stall full of sweets. His eyes full of excitement and wonder as they passed most stalls looking at the foods, but more importantly the sweets. " Simon-San, could I possibly buy all these sweets? Pretty please!! " he'd pasture and pressure his mentor to allow him to get some. " Young-Agares, calm your nerves and be patience we will see. " Simon, replying to him while keeping his straight back and posture. Walking over to a small vegetable stall, Simon, examined the product picking out new supplies for the chief. Sneaking off into the coward and shadows, Agares, travelled and promptly made his appearance at an candy stall unintended. Turning around scanning the people passing his eyes sharp and senses keen, he'd swipe an quick handful of hard candy with soft feeling placing it inside his pocket.
' That was simple enough.. hahaha ' thinking to himself, as he'd slip back into the coward appearing as another travelled. "Young-Agares, where have you gone? " Simon would speak loudly around the block looking through the coward for Agares, he'd begun having an small streak of sweat roll down his forehead. " I'm right here, Simon-san, hahaha " Agares speaking as he'd tug at Simon vest trimming, Simon letting out a sigh of relief holding a bag of cooking supplies. " I'm done with the supplies needed, do you still want that candy, Young-Agares? " Asking. " No, it's fine let's return home, Big Brother may be home!! " Getting excited grabbing his coat cuff pulling him toward his house.


Last edited by Agares on 08/11/16, 11:08 am; edited 5 times in total