Spoiler:

Job Name:

The Curved Path

Job Rank:

B

Job Location:

Jade Mountains

Job Rewards:

200xp / 15,000

Job Overview:

Deep in the Jade Mountains is a rather interested village. This village is home to a rather large group of melee styled warriors which undergo harsh treatments and training to perfect their martial art skills. They constantly ask people from the empire to come and test their warriors. This is one of those moments. Go there and take on the three training members and win.

Spoiler:


Enemy Name:Training Warriors
Rank: B
Needed damage to take down: 1 B each
Abilities:
These guys are rather strong and fast. They move at a speed of  10 m/s and use nothing but their body to deal damage. This melee damage will deal B tier damage that will often shatter bones.  

After spending some time with the Finalis siblings Yakuroro recently met, he was approached by Dynatos with a request. To help make them stronger. Initially Yaku was hesitant to accept as the path he walked was one of a magician. While Yaku's body was strong, he didn't like using it and had never polished his melee skills which would be the red haired natural born fighter's specialty. The Imuchakk was unaware that Finalis couldn't learn magic, but he was aware that if they were born magicians the brother and sister would have learned at least some basic kind of magic by now. So teaching them spells wouldn't be of much help either.
However despite his out doubts, Yakuroro agreed in the end. The deceitful Imuchakk lied at first and claimed that he had extensive knowledge of the martial arts before taking several poses that looked exotic in nature. If they were meant to be fighting stances then their benefits would be a mystery. However once the antics were done, he would explain that the best place for the finalis to train would be a temple Yakuroro owned in the Jade Mountains. Since they were nearby anyways and Alekzander was off doing a job to collect some funds, the blue haired giant would suggest the three travel there together.
After hours of climbing through bamboo forests and mountainous terrain the sun would be setting and it was pretty safe to say that the two Finalis might suspect the Imuchakk of being lost. But just before the first protest could be spoken, Yakuroro would grin and point, "There!" His large arms would pull stalks of bamboo aside to reveal a stunning view of a mountain top temple in the distance.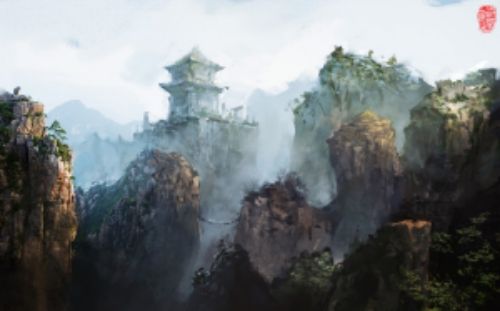 ~288/1500 Word Count~
((Whoever posts next, feel free to take control of the group like I did. Just follow the instructions of the job. Obviously Yakuroro doesn't own the temple, but FYI, it's one of the places he stopped to sell dungeon treasure at, so they know him and will be willing to open the gates for us. From there, take this in any direction you want so long as it leads to all three of us fighting against the training students.))