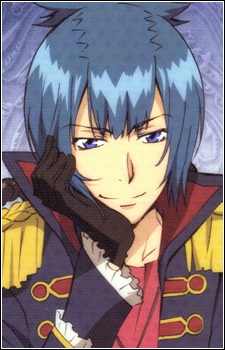 Name:
Mon-on-Ku
Country Affiliation:
Imuchakk
Race:
Imuchakk
Tier:
D
Specialization:
Strength
Age + Birthdate:
18, 19/08
Gender:
Male
Sexuality:
Heterosexual
Personality:
He is a calm individual but then again so are most of the other Imuchakk. He is also rather friendly to the people he befriends, but is rather cold to people outside his tribe or friends. His calm demeanor allows him to calmly analyze most situations. His loyalty to his village and friends is unsurpassed by most individuals and he would gladly lay down his life to save either of them. He is also a very determined person when he sets his mind to something he will do everything he can to complete it. His social skills could use some work and outside his friends he'll only really speak if spoken to first. His idea of fun is training his martial skills, and hunting. His negative side is the fact that if his friends or village are damaged he can be known to fly into a blind rage attempting to deal as much damage as possible to the one who caused it. He is also a very confident person when it comes to his skills, not overly confident, but enough to tell when he has at least some chance of winning. In combat he will most of the time try to end his opponent as quickly and mercifully as possible so as to lessen their pain. Though when he is in a rage he can become a much crueler person.
Likes:
He likes the cold as that is what he is used to. He likes training his martial skills as this allows him to hunt bigger and more dangerous beasts.
Dislikes:
Those who would harm his friends or village. He also dislikes people that would betray his trust.
Aspirations:
His biggest aspiration is to be able to protect his village from all threats. To do this he is prepared to travel the world training against other warriors, mages and beasts he would even go so far to attempt taking on one of these dungeons that some outsiders would talk about. He would even learn magic if that meant obtaining the power he needs to protect his village. He hopes however that he would never be pushed to having to protect his village against the outside threats.
Phobias/fears:
He fears the destruction of his village and his race becoming scattered, if this came to pass he would be a broken person, unless his friends somehow manage to pull him back. He also fears snakes, yes for an Imuchakk this is rather embarrassing, but when he was younger he was bit by a snake and it scared him, now whenever he sees a snake he will immediately try to kill it. Now his last fear is seeing his friends perish before his eyes, if ever confronted with this he will be overcome with grief until that grief turns to anger and he becomes a berserker until he calms down.
Face-Claim:
Daemon Spade-Katekayo Hitman Reborn
Hair Color:
Blue
Eye Color:
Purple
Height:
235cm(7'7")
Weight:
108.8Kg(240lbs)
Appearance:
His appearance is rather slim considering he's a Imuchakk having an athletic build closer to that of a runners build, When around his friends his body language is rather open showing that he relaxed around his friends. When around those he's not used to his body becomes more tensed and not as expressive as when he's with his friends. He normally walks calmly and confidently. For clothing he wears traditional Imuchakk clothing. His hair is in small spikes. His face normally expresses his kind personality, but when he is angered , it will tense up appearing to be harder. His eyes that are normally soft and expressive will become sharp.
Rukh Alignment:
White
Special Traits:
Scar across his stomach from his battle with the rampaging unicorn.
History:
Mon-On-Ku's history is rather long being born back before the Imuchakks unified he can remember the hard times. Times of starvation, he remembered when the woman who would go on to become the chieftain of the tribe appeared one day with her followers presenting the remains of the Rampaging unicorns that had made it so hard to acquire food, and then soon after she left and continued her way around the island until finely when he was eight a runner came to the village saying of how the tribes had agreed to become united under the new chief. From that day on life for Mon wasn't as bad as it was before.
When he turned ten he began being taught by his father in the use of the spear. He took to it like a fish to water, Mon learned quickly in the art of the spear and when he turned thirteen he knew it was nearly time. For after the chief defeated the rampaging unicorns and became chief it was announced that to prove oneself as a warrior they would have to confront and defeat a rampaging unicorn and take its horn as proof of it's defeat. The day came when Mon left the village heading towards the coast ready to face the beast, after reaching the coast he looked into the water and leapt in. After getting over the shock of the freezing water Mon pulled his wooden spear off his back and began looking for the beast.
It wasn't long for after about a minute of searching he saw the beast swimming below him unaware of his presence. So resurfacing just long enough to catch his breath he dived back under to begin the fight. He began by swimming as fast as he could into the beast head on and stabbing it in the eye blinding the beast. Which then began swimming forward faster. Mon unprepared for this was caught off guard and the horn of the beast sliced across his stomach just enough to leave a scar. Mon ignored the pain and made chase after the beast swimming as fast as he could. Until he had to dodge as the fish had turned around in an attempt to swallow him, after dodging Mon then swam back towards the beast until through a miracle the beast stopped for a moment allowing Mon the time to grab his spear out of the beasts eye. After grabbing it he made a straight shot for the surface as he was running out of air.
Reaching the surface he noticed he was close to the shore, and that's when he saw the beasts dorsal fin emerge from the water headed straight towards him. Mon swam as fast as he could to the shore until the beast jumped from the water attempting once more to swallow him. Mon miraculously managed to dodge and being so close to the shore the beast stunned itself by jumping into shallow water, Mon took this as a chance to climb the beast and grab hold of the horn breaking it off then he rammed it as far as it could go into the beast's eye until the beast no longer moved. Pulling out the horn Mon sat down to catch his breath and then began the trek back to the village. Where upon arrival he was greeted by his family and friends and it was then that he decided he would protect his village no matter what. That was five years ago and today Mon is out once again training with his spear, but soon he would embark on a journey around the world so that he can grow in strength to protect his home.
Role-Play Sample:
Mon gripped his spear tightly as he stared down his foe. The man he faced was just a little shorter, but Mon new that height wasn't necessarily the key to winning. Lunging forward he stabbed at the man with a forward thrust. The man just dodged to the left stepping in close making the use of Mon's spear almost useless. So holding the spear in his left hand about halfway up the handle he jabbed with his right hand attempting to get the man into thrusting range of his spear. The man just dodged to the right and threw a kick into Mon's side, who winced at the pain. He didn't know who this guy was but he packed a punch. So deciding to change tactics Mon shuffled back trying to make some distance before lunging back in with a thrust, that the man once more dodged, but this time Mon swiped the spear towards the man who was caught in the side with the blade wounding him. In the man's shocked stat Mon pulled back again and stabbed once more ending the man's life.


Last edited by Myran on 20/01/15, 11:39 am; edited 1 time in total