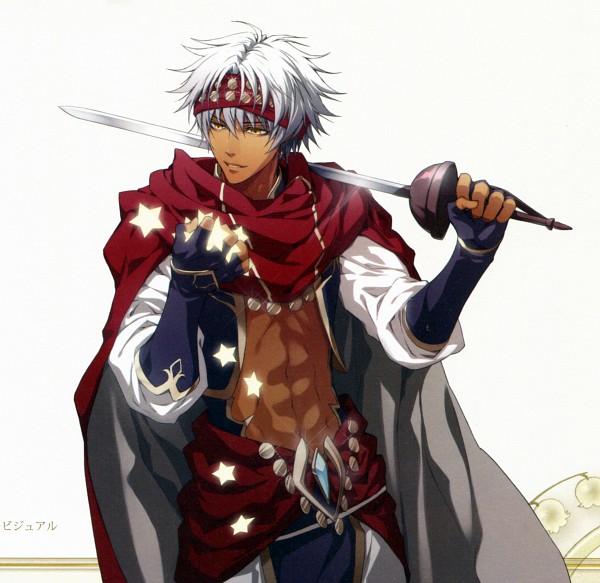 Name:
Osiris Amen-Ra Baal
Tier:
D - Tier
Gender:
Male
Sexuality:
Heterosexual
Age + Birthdate:
19/December 11
Nationality:
Heliohapt
Race:
Human
Specialization:
Strength
Personality:
Osiris is the definition of a leader. He never tires of helping someone perfect themselves. Osiris does not care about affiliation the person is, if he notices how they can improve he tries to help them out. This even carries over into battle. He has a deep bond with all that he encounters as if he had known them since they were young.
He is a man with odd ways and never lets out his true intentions. Putting it simply he is a mysterious man, not only that but he is kind hearted and loyal. He constantly thinks of the well being of Helio as a whole. If he gets wind of someone being hurt he is as fierce as a mother protecting her child, but he doesn't show his anger. Tear prefers to stay calm, cool, and collected.
He is a talkative man to a extent, while at times he is quiet and analytical. When he is relaxed and around his friends he is like a average silly young adult, while when in more serious moments he doesn't talk and lets his powerful presence speak for itself.  Speaking on his lighter side more, he likes to mess with people pointing out any little thing that may embarrass them. A example would be him pointing out how two people of different sexes spend a lot of time with each other. He likes to keep the atmosphere positive cause he has seen how negative thoughts effect morale.
Osiris is a strategist at its finest. He knows he has a great amount of power, but he prefers not to rely on it. He feels because there is always someone out there stronger than you or someone who has the perfect abilities to counter yours. In battle he is extremely graceful, but has devastating attacks at the same time. Putting it differently this man is a graceful as a leave fluttering in the wind then gently landing in the middle of a pond sending soft ripples outward, and as powerful as a Silver back Gorilla that feels threatened. All this being said he is still a goofy and adventurous young man.
Likes:


The Sun - Being from Heliohapt the Sun seem to shine all the time, but not in the slums for some reason. So now that he has left the slums Osiris loves to feel and see the light which was previously un reachable to him

Fighting [Recreational] - Osiris loves a good spar and makes that fact known to all he meets

Exploring - Osiris loves exploring into the unknown to see and learn things he never imagined he would

Dislikes:


The Slums - Osiris has sworn to never return to the slums to live ever again. He has had a past full of sadness because of them

Riding on a Boat - Osiris gets motion sickness when riding on boats due to being on solid ground for so long.

Losing - Osiris hates losing, the feeling of being defeated is something that he wishes to never feel.

Phobias:
Death
Osiris fear death like any other person, but for him it is more than just death. He has a goal for not only him, but his sibling. He made a promise with himself to live a life for the both of them. When Osiris thinks of dying he isn't scared of death, but what comes after death. Will there really be a god or will he just disappear like he never existed, will it be like dreaming for eternity? Osiris doesn't know and this is the one thing his sense curiosity strays from.
Aspirations:

Living Life
- Ultimately Osiris has but a single aspiration and that is to live life to the fullest. He wants to live a life that he couldn't have and for the sake of his younger sibling that passed. Putting it simply he wants to live better. That being said Osiris ceases every day like it is his last. The saying Carpe Diem is the perfect symbol for the feelings which Osiris possesses. Seize The Day is Osiris motto.
Face-Claim:
Bilal Asad Ithnan Faranbald [Wand of fortune]
Weight:
1 9 5 lbs
Hair Color:
Silver/White
Eye Color:
Tanish Gold
Height:
6'3"
Rukh Alignment:
White
Special Traits:
N/A
Appearance:
Osiris is tall and has the normal tanned skin of the Heliohapt. His stunning eyes plus strong face often mesmerizes those around him. His greyish silver hair is short and unkept. He often wears a headband of some kind. Osiris also wears golden hoop earrings in both ears. This is common for those within his culture.
His shirt is a long sleeve dress shirt, but Osiris keeps the sleeves rolled up and majority of the shirt un buttoned. A black "cape"; if you would call it that is worn over the shirt. Osiris wears black pants as well as black boots. He also wears 2 gold bracelets on both of his wrists. The bracelets belonged to his younger sibling.
History:
Osiris was born in the slums of Heliohapt. His house was small, cramped, and draft.  He was the oldest to two younger brothers. His Father was a deadbeat and his mother to put it in better terms was a "Free Spirit". This caused Osiris to take the mantle as care giver for his younger siblings. He would also take the blunt of beatings from his Father and the Mental beating from his Mother in the stead of his brothers. Osiris was told that he got his name because she, his mother, wished he was dead. Osiris was the God of Death so you get where the name comes from.
Osiris ignored the words and stood strong for his brothers. He had to fight to survive and showed early talents when it came to fighting. Often fighting for money or stealing from others to feed his brothers. This went on for years until the day one of his brother had gotten sick. It was one of those sicknesses that could only be cured by high end treatment which was something Osiris could not afford; to make matters worse his Father and Mother got into a fight which dragged Osiris and his youngest brother into the fray. In the end the young one lay aside a table blood leaking from his head. You could imagine the reaction of the young Osiris. Anger over came him as black ruhk began to build around him. They were just feeding of his negative emotions making the emotions even worse. The only thing that kept him from going over the edge was the thought of what his younger brothers would say. Osiris simply looked at his parents both in their eyes and walked away days after the incident.
Osiris only being 14 wandered around the massive city of Heliohapt. He eventually came across a man you was skilled in hand to hand as well as armed combat that helped him hone his skills. The man became like another father to him. During his time with the man he swore he would love a good life for him and his brothers. 5 years has passed since then and Osiris finally feels ready to officially start his journey.
Role-Play Sample:
"The wind is soft and cool today. The sun is warm. All is calm today. Today is perfect, isn't it Tai." Sarah's eyes gazed in a calm awe at the vast cloudless sky that graced the earth today.
There were never really days like this around here and by this I mean calm. Normally there was a dull sense about the town, but not today. Today was far different from all the other days. Why was that? Sarah couldn't figure it out but she felt as if she was finally at peace.
Sarah did not question it, but instead took it in and embraced the serenity. She slowly turned her head to look at Tai. Sarah smiled and as she did the wind gently blew causing her hair to gracefully flutter in the wind. She brushed her hair back behind her ear and looked into the sky before looking at Tai again. "You love sleeping huh Tai."
Sarah placed her head against Tai before smiling and taking in everything again. "Tai you know always sleeping isn't good. It'll cause your muscles to stop working." She lectured Tai with a soft smile and tone. Sarah stood up from her previous sitting position and took a few steps forward.
She reached out into the air as if she was reaching for something. The wind gently blew as she turned to look at Tai. She slowly walked over to wear he was laying and bent down. She looked at him for a moment smiling. Something was off about her smile though, it was as if she was sad. She stood up and turned away from Tai again.
Tai's eyes slowly opened as he looked up at the sky. He looks to his left and looks and stares at a makeshift grave. It was a mound that had a single picture and flowers laid in front of the mound. Sarah looked back at Tai with a sullen smile. "I'll come everyday to Visit. I promised that we'd be together forever." Tai announced to the picture.
Sarah's smile brightened and she heard the words. "And I'll come everyday and be here with you." Sarah replied to Tai's words. Tai turned his head and stared directly were Sarah was standing. With a warm smile he calmly spoke. "I'll be waiting..."


Last edited by Tear on 04/03/14, 08:39 pm; edited 3 times in total