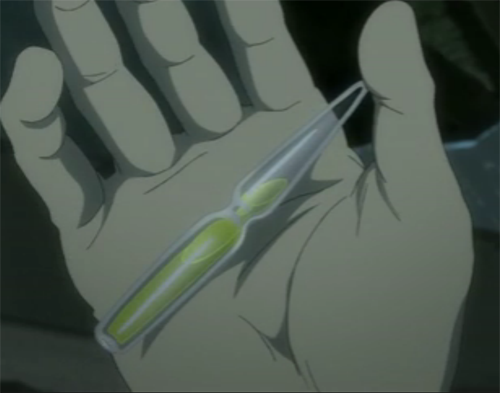 Name:
Papaver Somniferum's Essence | Opium Poppy Essence
Tier:
C - Tier
Material:
Is held usually in a glass vial, and can be made with varial liquids and herbs but has an Opium poppy ( Papaver somniferum ) base and is usually found by being made by Tokoro Higona as one of her favorite poisons / Drugs it is held in a vial that is 6 cm in length and .5 cm in width and holds 5 uses worth in each vial. It takes in character 5 hours to settle before it can be used after being crafted.
Description:
Crafted with a base of extracts from Opium poppy ( Papaver somniferum ) and liquified into a heavy concentrate that allows up to 5 uses and altered to be used via, entering wounds, injection, and or oral ingestion. If you drink or use all of its contents at once the effects it causes will last just as long as usual but be 5 times stronger and result in causing the user C - Tier Damage. If taking this is done repetitively as expected one could be killed from the stacking damage and result in an overdose. This drug in battle unless the affected player ished for it to last fully, will only last 2 posts. Alternatively if the player being affected by this drug wishes to have it go its full length it will last based on the character's natural body's resistance, 1 - 4 hours.  
Hallucinations that vary based on your own mood, Numbs C - Tier worth of pain, makes you light headed, pleasurable rushes that causes a warm flushing feeling that rushes over the body starting form its injection point and dry mouth it can make you feel heavy and a few hours after it wears off you could feel nauseous, vomit, and feel itchy alongside this it will tend to slow heart beats leaves you drowsy with a slightly clouded mind and slow your breathing if mellow enough one could fall asleep while under its effects. The drug is non addictive but what it can make you feel can cause others who need an outlet to their feelings to come back to use this commonly to take the edge off knowing it can help.
This item can be used in drinks to be used, if applied to solid adsorbent foods like bread its effects will be half as strong but this will not lower the damage caused upon taking too much of it.
I will be buying one upon approval