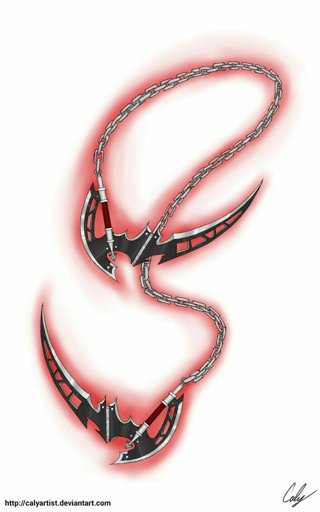 Name:
Sheaki Deaki
Tier:
C - Tier
Type:
Chained Scythes/Long Dagger
Material:
Standard metals
Appearance:
Connected by silver 2.5 cm chains that are 3 meters in length enabling short ranged attacks. These scythes when flicked right can shift the hooked part of their blades back to make them function more like long daggers with a blade on the upper half of the front and the lower half of the back. The blades though will always be at a slight angle at all times though. The bottom/side blade segment is 10 cm in length, while the main/upper blade is 15 cm in length both being about 2 cm in thickness. The handle is about 23 cm in length and 2 cm in thickness. There are several pockets of empty space in the blades and ridges and spikes throughout it. The back half of the blade now have small holes in them to let out poisons loaded in the bottoms of the handles of the scythes. Along all of the blades are grooves about 1 m wide now to help glade along the liquid poisons to coat the blades.
Tricks:


Shift Daggers:[/b] This was here upon its initial creation though is now listed under tricks to keep track of it and it's similarity to a normal trick. See above for details.

Poison Applicator: These scythes now have a dispenser incorporated into them and a place to load in vials hidden in the bottom of the handles. Once they are screwed into place then the handles can be twisted to release the vials contents into the blade to spread along the blades. It requires 1 post after use to reload and can only be loaded with officially approved poisons items. Once loaded the next strike that makes contact with the blades on a normal basic attack, will also do in addition the poisons effects. This though will use all of the contents of that poison and requires it to be a liquid. So even if normally a poison only needs 1 drop to work this will use all of the contents.

Please remove required Huang for upgrading a D - Tier to a C - tier weapon upon approval