Flashing Lights(zodiacal light)
Tier:
A
Class:
Aurangzeb [ Magic Weapon | Ultimate Ninja Magic ]
Type:
Supplementary
Range:
Medium
Requirements/Drawbacks:
The user must remain still for the duration of the ability and the targets must be facing the user.
Scaling:
AoE
Sustain:
0
Cool Down:
4
Cost:
20 magoi
Description:

The user activates the spell, causing the entire surface of the weapon to glimmer and emit a sharp loud static noise. Jahanghir's form transforms into a blinding iridescent light in a 5 meter radius around the user that flashes rapidly every second. This causes any target looking at the user to become afflicted with flicker vertigo ;disorienting them and causing loss of control of their bodily functions for 4 posts.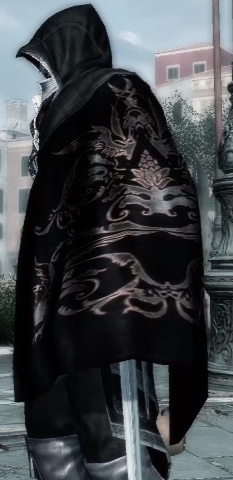 Name:
Aurangzeb - Ornament of the Throne
Tier:
A-Tier
Type:
Magic Weapon - Fighting Cloth
Magic Type:
Ultimate Ninja Magic (Light|Sound|Life)
Appearance:
Black and Gold Regal half fighting cape, made of a mysterious and durable material. The length of the cape is 107 centimeters and covers the users left arm, the cape remains strapped on to the users torso by golden knotted chords. The material of the cape is very thin and malleable similar to silk.
Function:


Cloak of Concealment - When fed magoi, the cloth will shimmer for a brief moment before cloaking the user and their objects in an aura of perfect invisibility where no smell or sound escapes the person(s) being coated. The effects of this cloth can be granted to a total of four other people or creatures upon touch of the user so long as they maintain being within 1 meter of the user during the duration of the sustain. 10 magoi to activate | 5 magoi to sustain.