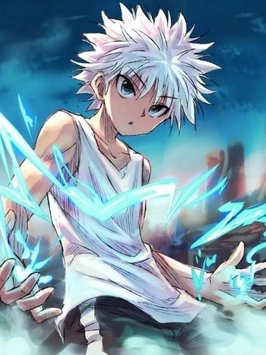 Name:
Gi
Country Affiliation:
Imuchakk
Race:
Imuchakk
Tier:
D
Class:
Assassin
Age + Birthdate:
19 + 1/22
Gender:
Male
Sexuality:
Heterosexual
Personality:
Gi has a side of him that he calls his instinct. In combative situations he becomes far more aggressive in how he handles things. This affects him multiple ways. One noteable was is shown in his fighting style. Another is when he first meets a outsider of Imuchakk and he presses them to learn where they came from and what their intentions are.
Sometimes Gi has a tendency to exhibit tunnel vision. It's not to say he becomes blinded by things, no it's more to say he is focused. He sees any task through to the end never losing sight of his goal. Unlike most of his kind he is always ready for more. Gi wants more for himself, as well as Imuchakk. Whether it be from personal growth or fulfillment. Regardless of what it may be Gi wants to get the fullest out of everything he does. That's how he lives day to day.
Having to fish and hunt for game in the Tundra requires more patience than anywhere that could be thought of. That being said Gi has built up a great deal of patience. He has does this after the realization that life is longer than we think. Most of all Gi has his pride as a Imuchakk and as a Man. Regardless of how he is seen or talked about, he will remain prideful of his heritage. He will always remember who he is and where he came from. That being said Gi doesn't respect the down talk of Imuchakk or anyone like him.
Likes:


The Quiet - Gi enjoys the quiet because it allows him to think. Not only that but he finds other things in the stillness of silence. Such as, meditation, peace, guidance, and clearness.

Water - Anything relating to water Gi loves to indulge in as much as he thinks is necessary. Whether it be swimming through the icy waters of Imuchakk, simply drinking water, or even climbing ice caps Gi is all for it

Generally Gi likes many things, however some more than others. Such as, his love for the tribe mainly because he is proud to be a Imuchakk. He also enjoys a good hunt. Give his heritage, Gi prefers the cold over the heat.

Dislikes:


Outsiders - This would be anyone Gi feels threatens his well being, or hinders Imuchakk in any way. They are also people who think they know best for G as well as Imuchakk.

Gi has a partial dislike for the heat. Not saying it would hinder him in any way, however it does bother him slightly.

A more severe dislike would be traitors. Gi does not tolerate those who betray him or Imuchakk. In his eyes they should be disposed of immediately, as they are enemies.

If you are weak then become strong somehow. Gi understands not everyone is strong, but he also knows every has a strength in some way.

Aspirations:


Being a outcast, due to his abandonment Gi's biggest goal at the moment is to earn his way back into Imuchakk by defeating a Rampaging Unicorn. The task is better said than done, but he will restore all lost honor caused by his parents. After that he will prove himself dominant amongst the warriors to become a Sabertooth Warrior. That would solidify his standing with Asisiak. This would allow him to learn directly from the most powerful warrior Imuchakk has seen to date. After that, just like Asisiak, Gi wants to conquer a dungeon. Something he remembers as bed time takes as a child. Ultimately Gi wants to challenge Asisiak defeating her in order to become the next Chieftan.

Phobias/fears:


Gi's biggest fear is simple. Death. That is because with death comes the loss of many opportunities, as well as failures in accomplishing goals. Most of all it terrifies Gi because he wants to see generations upon generations of kmuchakk to come. Situations that would cause him to be near death Gi won't shy from, but death simply brings the loss of so much for him. "Returning to the Ruhk might not be bad, but maybe thinking selfishly isn't bad sometimes."

Face-Claim:
Killua - HunterXHunter
Hair Color:
Light Grey/Blue
Eye Color:
Gold
Height:
180.34 cm
Weight:
71 kg
Appearance:Rukh Alignment:
White
Special Features:
Born with Larger lung capacity than most Imuchakk
History:
I would sit here and give you some magical story of how the ruhk blessed me, or how I was left on some magicians doorstep, but those are just stories. My life hasn't been glamourous. No, but I can tell you why I'm standing in front of the Imuchakk village.
What should I say on how I was born. It was pretty normal by my understanding. Well except for the fact my parents didn't mean to have me. You could call me a bastard. That's fine and dandy, anyway I don't really remember much of anything about the Imuchakk village to begin with. I do remember the day my mother left me with my father though. She was never in love with him and felt cramped by her people, so she left. I was about three back then. I remember it sent my father in a downward spiral. He would often leave me with his Mother and Sister as he went on "hunts". They were more like mini expeditions to find my mother.
Two years went by and my Mother didn't return. My father decided that we would go out into the world and find her. We hadn't even considered what it would be like to raise a child. When the thought of having to look after me dawned on him, he left me in the wilderness. Not before teaching me how to hunt for my food. He considered me to much of a burden.
So that left me wandering the Tundra. Not knowing where to go or what to do. However I swore to myself I would survive even though I was cast aside. I began honing my skills for the day I found the tribe again. It was hard, some days I just knew I'd die. Others it felt as if I was doing it all for no reason. I always kept my hope alive though. Each day I told myself, they'd find me it I'd find them.
After years I eventually stumbled across a group of Imuchakk fisherman, which lead me here. The moment I've been waiting for, for fourteen years.  
Role-Play Sample:
A moderate snowfall, as it normally was. A seven year old Gi sat inside of a snow covered cave. He was covered with a cloak. Being a Imuchakk the cold didn't bother him much. That being said a slight chill caused by the  cold stone, ran up his spine. Fortunately he had just caught a baby seal and was preparing a fire. The seal lay gutted behind Gi, while the entrails where in a pot that he had scavenged.
Not before long Gi had a fire going. Using some of the snow from outside to fill his pot Gi began a stew. While that was happening Gi began getting the seal into chunks, so it would be easier to cook with the stew. Gi would eventually renew the water in the spot with fresh snow. This was done in order to clean the entrails some. After that Gi added the seal meat. There was some natural rock salt that Gi found and used to give a taste of flavor to his stew.  
Once it was finished Gi enjoyed his seal stew.


Last edited by Giruru on 12/07/18, 12:33 pm; edited 1 time in total