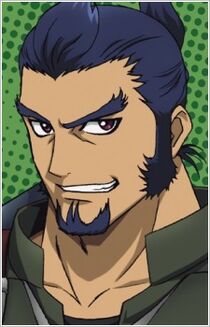 Name:
Barratiti
Country Affiliation:
Imuchakk
Race:
Imuchakk
Tier:
D-tier
Class:
Warrior
Age + Birthdate:
32. September 12th
Gender:
Male
Sexuality:
Hetrosexual
Personality:
Barratiti is a calm man who appreciates the little things in life. He makes an effort to stop and enjoy sound of children playing, to enjoy the breeze, the sunset, or anything that brings a smile on his face. He often wishes he was an artist, so he could properly capture such moments. Upon meeting another, he is aware of his physique and attempts to show himself not as an intimidating giant, but a gentle friend.  He believes silence is necessary to truly hear, and thus reminds quiet until he feels he has enough information to weigh in, careful never to interrupt another person. Barratiti tries to help others in anyway he can. From saving a cat in a tree to running an errand or two. He realizes he's not above anyone else, so he shouldn't treat them in disrespectful ways.
He shows the same respect even in a hostile situation. Careful to approach in a calm manner, one that suggests him an ally instead of a potential threat. He fights careful not to hurt anyone unrelated, nor to damage any property around. If unable to prevent damaging a house, he will apologize and attempt to make things right. At times doing so through rebuilding the house himself or paying for it's repair should he be in a rush.
Likes:
Barratiti enjoys a nice cold breeze on a hot summer day. Such winds bring him back home, if only for the briefest of moments. Barratiti also enjoys festivals as a great many people get to celebrate something with good music, fantastic food, and above all a happy mood. Such events also remind Barratiti of his late wife, who adored such events.
Dislikes:
Barratiti dislikes disrespect as it is completely unnecessary. No one should be belittled, no matter their actions. Even those at war are able to do so with a respect for each other. Barratiti has seen too many people fall ill due to poisons and toxins. They are a dishonest and saddening way to attack, and a heart wrenching way to pass.
Aspirations:
Barratiti would have others believe that his goals are simply to travel the world, meet new people and experience exciting things. But in truth all of that are aspirations of his late wife, Sarasoso. He is simply trying to move past her and their child's death. She always wanted to leave their snowed in home to travel the world and see what wonders were out there. After remaining at home for 2 years after she passed, he finally adopted her dream as a way to coup without her, and finally find some form of peace of mind. However, along his way, he's seen quite a lot of people suffering and has focused in ridding them of such suffering when possible.
Phobias/fears:
Ever since Barratiti sailed out into the open ocean, with no landmass in sight, he has feared boarding another ship. He knows what live beneath the surface of the waves. He has fought them, he knows he can kill such creatures again, but he doesn't know if he can save the ship. The idea of being alone floating until he dies of dehydration, exhausting or drowning is one that causes hesitation to cross large spans of water.
Face-Claim:
Sainglain from Ixion Saga DT
Hair Color:
Dark blue
Eye Color:
Brown
Height:
232 cm
Weight:
280 lbs
Appearance:
Barratiti Is a mountain of a man fitted with broad shoulders and large muscle mass. He wears a simple white cloth tunic with a traditional decorated white and blue kilt with a pair of red sandals on his feet. A traditional headband with a three-pointed beige horn on the left of his head.
Barratiti has a rather stoic look on his face at most times. Expressions comes through is eyes with his eyebrows dancing to announce emotions especially sorrow. His eyebrows help to announce these emotions. His body language is subtle and gentle. He often keeps his hands clasped over each other preventing grand motions.
Rukh Alignment:
White rukh
Special Features:
n/a
History:
Barratiti was born as any other Imuchakk child was. Born to battle the northern weather and become a great warrior. Like his father before him, he did this without hesitation and he came to age as he drove a harpoon through a raging unicorn's eye, right into it's brain. As the great beast fell, Barratiti's life began.
Soon after his coming of age, Barratiti asked the beautiful and elegant Sarasoso to marry him. The two had always enjoyed each other's company and Barratiti had decided long ago that he would ask for her hand. The two shared a happy life together, finding joy in travelling around the country, or staying in their home.
After a decade of trying, Sarasoso announced she was pregnant. Something they had prayed for since they ended up together. Barratiti realized their home wasn't ready for a child and began to do what he could to make the home child friendly. He added an entire room onto the structure for the nursery and pushed out the living wall to give more room. They were both pleased with their newly improved home. Sarsoso went into labour mere weeks later.
The labour lasted 20 hours of screams and pain. The child refused to enter the world and his mother screeched in pain. Finally, the child came out but wasn't crying, wasn't moving. The child had died. Sarasoso held her baby and cried weakly. She passed shortly after, many say of heartbreak.
Barratiti hosted the funeral for his child and wife before falling into a depression and hiding away within the home he had once shared. Often unwilling to eat or even move. Others came and helped as much as they could, but eventually they stopped coming. Barratiti always thought it was because they had lost hope that he would bounce back.
Two years passed and Barratiti had not recovered from his own sorrow, but he had realized it was time to try and move forward. He began training again and boarded the next trade ship for Reim, where to sailed towards the wonders his beloved wife wanted to see. His son would have loved such things as well, Barratiti was sure of that.
Role-Play Sample:
Barratiti had been sitting in this nursery for a few hours today, his hand rested on the dust covered crib as tears froze to his face. He knew this is not something he should be doing. He knew he had to stand, he had to walk. He could hear Sarasoso screaming at him to move. He had heard it for months, but still remained locked in place. Frozen to that chair, to that room. He glanced up to the window and saw beautiful green and blue lights dancing in the sky. They moved like she did. They moved like he hadn't. He stood up, gently placing a photo of his lost love on the pillow in the crib, offering a smile before leaving the house. He grabbed his harpoon, dusting the dirt off it and headed to the docks. "
It's time I move
"