Edged Chance B -> A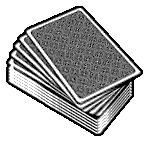 Name:
Cutting Chance
Tier:
A
Type:
Edged Cards
Material:
Steel
Appearance:
A simple deck of cards mades from steel with sharpened edges allowing them to to be used as throwing weapons.
Ammunition Material:
Steel
Ammunition Appearance:
Each card is 6.35cm wide and 8.89cm tall. They are extremely thin having a thickness of only a few millimeters.
Swordsman's Cloth C -> B
Name:
Swordsman's Cloth
Tier:
B
Type:
Cloth Blade
Appearance:
An unusual and very unorthodox weapon, the Swordsman's Cloth is a blade forged from an incredibly flexible non-ferrous metal with almost no reflective properties.  This gives it the initial appearance of cloth that has been pulled taught. The 5m long weapon actually holds an edge and has a one handed grip for the wielder to use made from a thin but sturdy piece of carved wood. It is usually wrapped around the users abdomen disguised as bandages.
Bloody Branch C -> B
Name:
Bloody Branch
Tier:
B
Type:
Sword Breaker
Appearance:
The Bloody Branch is crafted from a rare crimson wood found deep within the Jade Dragon Mountains. It is durable enough to clash with common steels and ores and can be strengthened further through metallurgy thanks to its ridiculously high ignition point which allows molten metal to be forged over it. This process has been performed creating a unique alloy that is very hard and durable as the sharp edges to the blade. The weapon is only 12in(0.3m) but it possesses two branching "blades" that are jagged in shape. The grip is made from wrapped leather and designed to be held in only one hand. It's unique design and shape makes it excellent for catching and disarming enemy weapons.