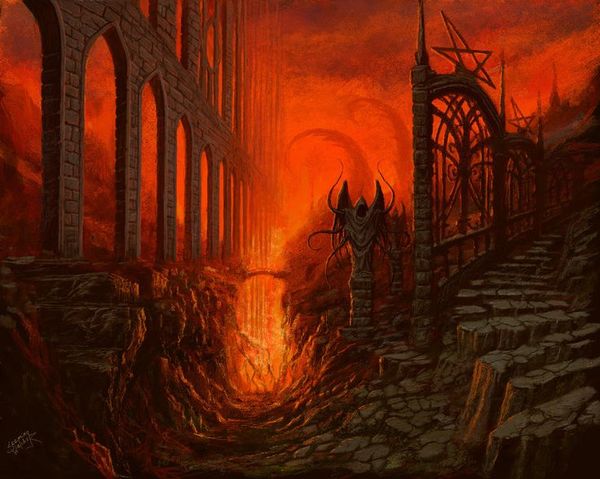 The air warped around them, creating a stained sight of reds and browns. Orange streaks would go across their eyes occasionally. The intense heat started to blanket around them as they felt their bodies being warped into the dungeon. It was as if they were being shot in through a stream of hot air as they managed to gush through. Yet a moment of blankness and bliss would wash over the pair of magicians as their butts bumped the ground.
In a moment their surroundings would start to fade in from a blur. The strong smell of burnt flesh, and sulfur curling and burning the ends of their nose hair. The strong heat of the main hall would flare over them as the hellscape before them would be a visible nightmare. For Adrastos it would be similar to that of Dantalion in heat, yet he would notice a difference in bones. As they saw the leftover skeletons in the area it was obvious they were charred.
There would be ruins around them yet they would be no more than charred buildings. Lurking ashes and empty structures. Ahead of them, they would see a horizon dotted with dashes of flame and what seemed like scattered people. It was too far for them to distinguish. All they could tell is that the dotted group was standing by what seemed to be a canyon that was 50m away.
An intense pull wrapped and would suggest for the pair to walk towards the canyon. There would be strange, soft noises coming from the distance if they had listened closely.
There would be a moment for the two to actually get a moment to be aware of their surroundings. Yet it was like there was a constant pressure, something looking in on them. As the skyline and winding paths pictured an interesting journey. A Misguided Magus with interesting passion, along with Dark King on a lost path of fate in this journey for a kings power.
Dm notes:
Canyon is 50m away
Players have 48 hours to post before there will be a proxy auto-post.