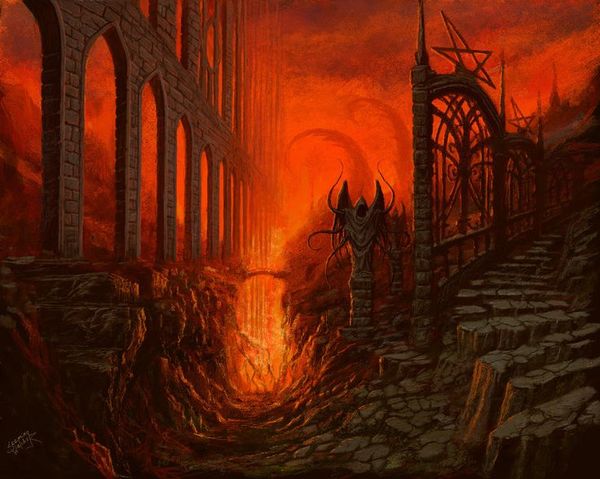 The world warped around them as they had been swept into the dungeon. Their perception was thrown around as they had found themselves in their own world. Vivid images coursing through their eyes, painting colors of red and orange. Dancing across their eyes. Then with as quickly as it came, the images would stop as darkness came. Their conscious gone for a second as they wouldn't find themselves in the dungeon.
Once Trently, Lagi, and Ani had regained their vision they would all find themselves, and their beasts, fly through a portal into the first room of the dungeon.
They all fell near one another, landing less 1m away from one another, beasts toppling on one another. The ground was cracked, dried and burnt. The dry rock had soot, something had been burnt to a crisp but it was uncertain. The smell of sulfur wisped around through the ruins that peppered the Main Hall. Distant wails or noises from something came from the distance. The first room was seemingly the underworld with he lost and burnt buildings and a suspicious smell of decay was noticeable among the general scent of the dungeon.
Looking forward the three adventurers would notice that these smells, the noises and the earth itself lead forward in the vast expanse. The ground was clearly declining, the mouth of canyon seen in the edge of their vision. It was 50m away, it would take a bit of walking to get to their location. Yet something lingered, emanated in the area. Danger lurked around the corner, who knew when there would be an attack. Maybe the monsters were only in the distance.
The new vivid setting provided a shock to their senses as they would soon realize where they were. A watchful eye and wandering souls were keeping a close look on this troubadour. A group with no real connection, seemingly at odds the party of the Ex-Emperor, Half-way Hero and Caring Cavalier.
DM: Mouth of the Canyon is 50m away
Players have 48 hours to post before there will be a proxy auto-post,